A belated Happy New Year to readers of my blog. Here is an update of some of my county councillor activities from the past couple of months.
Attended the following Surrey County Council meetings
Other work related to Haslemere
Station Travel Plan (STP). Secured funding for a STP. This is in partnership with Haslemere Vision. The first stage of background research has been completed. Happening now and for the next few days, there will be a travel survey and Haslemere Vision is looking for volunteers. Please click here to see how you could help Haslemere Vision for one or two hours.
Haslemere train station forecourt and additional deck car park. I met with representatives from South West Trains/Network Rail/Surrey County Council to finalise plans before key stakeholder consultation.
Highways schemes. Gateway schemes underway and some of you may have seen SCC notices in town. Work is going to start in the next two weeks. Shepherds Hill railings and Midhurst Road scheme still to be snagged/finished- lighting/electricity supply problems.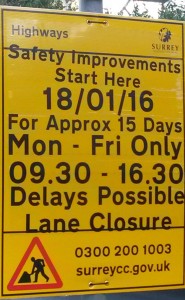 Road markings to improve pedestrian safety outside Grayswood School have been installed. Funded this highways scheme outside Grayswood Primary school to improve the safety of children, parents and staff walking to school.
The 30mph speed limit, Grayswood Road, town end. The 30mph limit on the approach to Haslemere High Street has been extended towards Grayswood. New signage has been installed.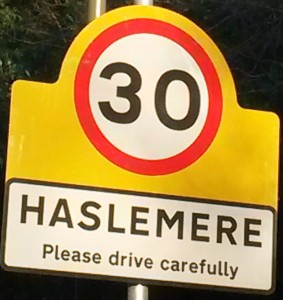 Fosters Bridge: Arranged replacement of missing railing under the bridge.
Wey Hill crossing: Plans finalised for pedestrian crossing opposite Shahanaz. Installation date TBC.
Youth service: SCC paid provision has been re-allocated to Farnham following SCC Youth Services Needs Assessment agreed in Sept 2015. I raised my concerns for Haslemere. Success in lobbying for additional youth work resources at the Wey Centre – external funding has been secured to provide a paid member of staff to work one day per week to support young people. The CCard Scheme, 1-2-1 and 'Early Help' support for young people will continue to be provided in Haslemere through the SCC Community Youth Work Service.
Haslemere Station Community Partnership, town promotion: Attended start up meeting – using members' allocation to fund start up with involvement from National Trust, South Downs National Park Authority, Haslemere Visitor Info Centre, Haslemere Museum, SWT, HTC, SCC, Haslemere Events.  Vacant shop at station to be used as pop up to promote community events and visitor information.
Sandrock lighting. Pedestrian lighting should be installed in the next few weeks.
College Hill right of way: SCC has now submitted a map modification order for the right of way access for the pathway leading from the Petworth Road to College Hill. The process will be delayed as the developer who installed the railings and blocked the access has lodged an appeal. This is now going to be a lengthy process. More here and Haslemere Herald article here.
Press release from the SCC Independents' Group of Councillors regarding the Central Government's decision to cut the Rate Support Grant. Read our statement in full here. The Residents' Association and Independent Group is the largest opposition group within Surrey County Council. It currently has nine members, representing divisions from across Surrey. The group leader is Cllr Nick Harrison and it has members represented on all the committees of the council.
IMPORTANT. Bus Consultation affecting Haslemere. Consultation closes March 16th. Here is a link: www.surreycc.gov.uk/transportreview and a summary of routes affected.
Spend of my annual Members' Allocation
Haslemere Basketball Club. There will be a full press release for my next councillor update but here is an early indication of how the funds will be spent via an email sent to me by the club:

"We are so grateful for the grant money provided by Surrey County Council via councillor Nikki Barton. We have already bought two match balls as per our funding application, which have been used in a recent match (see photo below). We're looking into the best deals for the rest of the equipment and kit we require, and hope to have completed purchases and orders by the end of January."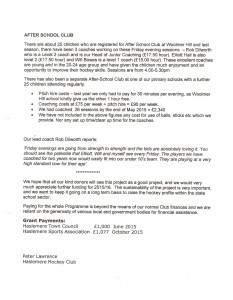 to learn how the Hockey Club has spent the funds for youth coaching.
Table Tennis Club lighting. Funded new high-luxe level lights so that the table tennis players can use the Woolmer Hill gym for club nights.
Haslemere Events will take on the lease of the train station shop for community event promotion. I have given some of my members' allocation to fund legal costs.
PLEASE NOTE there is still time to apply for funding for your local organization. Here are my contact details.
Other Items
Lion Green Post Office campaign. Please note the Facebook campaign page to try to keep the Post Office following M&S' acquisition of the Co-operative site in Lion Lane.
Stepping Stones. High Court Appeal won. More here in the Haslemere Herald.
Haslemere Hub. The HaslemereHub meets at the Georgian Hotel & Spa every Tuesday (from 2nd February) from 9am for coffee with workshops for all local independent businesses. The purpose is to collaborate, share and grow! Your first visit is FREE!. Here is their Facebook page.
Are you a business owner in Hindhead or Beacon Hill? Meet the Mayor – Hindhead and Beacon Hill businesses
Waverley Ensemble. March 5 was due to be the first Waverley Ensemble Concert of 2016, but the concert has been moved to Saturday April 16 at St Christopher's Church Haslemere at 7.30pm. Program: Arias sung by Amanda O'Brien and Telemann Flute, Violin and Cello Concerto with Susan Milan and Andrew Taylor. For more information please go to: www.ishanibhoola.com.
South Downs National Park Authority volunteering map. South Downs NPA website has a volunteering opportunities map – which enables organisations with volunteer opportunities to promote these opportunities to a wider audience. Link here to their website and map. www.southdowns.gov.uk/volunteering-map