This is the text of my mayoral nomination in May 2021, written by
Haslemere Town Council councillor colleague Isabelle Cole.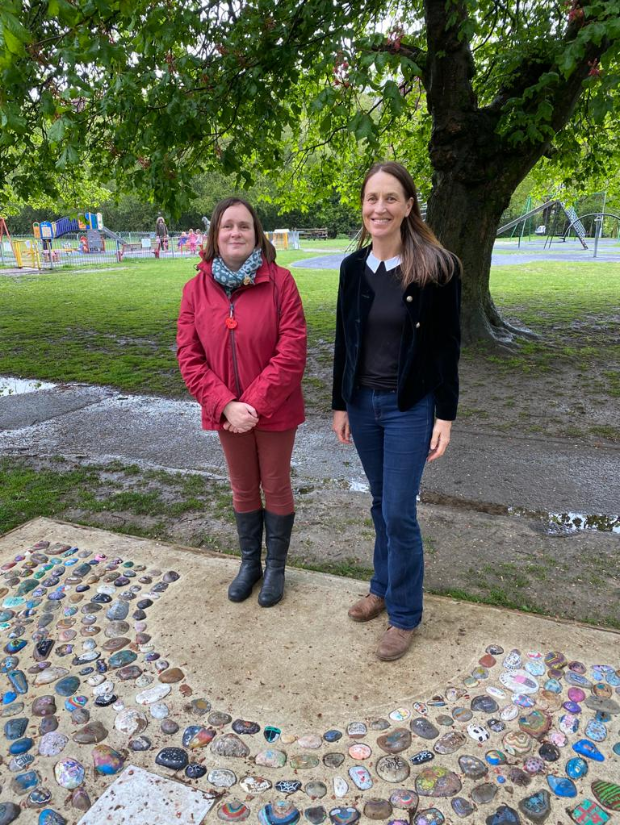 These testimonials (click on picture below) appeared on Nikki Barton's Facebook page when she announced her retirement as Surrey County Councillor for Haslemere in 2021.
These testimonials support Nikki Barton as a candidate for the Surrey County Council election (Haslemere ward) to be held on 2nd May 2019.
With no party line to follow and, as someone living within the ward she is hoping to represent, Nikki has a proven track record of not only listening to the views of the community but, where necessary, taking appropriate action. A true community player with no hidden agenda, who I know will truly and honestly represent the issues and concerns of the people of Haslemere. Ken Griffiths, AKA Community Ken

The Rail Partnership has been a huge positive to Haslemere, Nikki and her team work very hard to promote Haslemere and what the town/area has to offer. Her work to put Haslemere on the map has surely had a profound effect on the number of visitors coming to the town and with our great location opposite the station this footfall has undoubtedly had an increased effect on the trade we receive. Manager, The Station House Hotel

Nikki Barton was a strong supporter of the local community and to me personally here in Haslemere in January 2017 when the Alzheimer's Society decided to close the Dementia Day Care Centre where my husband and many others suffering from Dementia attended. Nikki recognised our local vision for the need to help keep this valuable service for Clients and Carers. She voiced our concerns at meetings at both local and County levels and stood beside those of us who were determined to keep this service operational. Without her unwavering encouragement, support and negotiating expertise, we would not have had the voice to bring about the opening of a new thriving Community Charity for dementia care in Haslemere, The Hunter Centre. I am proud to support and recommend Nikki as an Independent Candidate for SCC. Margaret Barlow, Trustee – The Hunter Centre

Our family has complex needs and we were struggling with different issues. Nikki quickly grasped what was needed and organised a meeting with head of Children & Family services (and other services involved) to ensure our family received more comprehensive and joined up support. We are grateful for her focused and pragmatic support. Mrs B. – Haslemere
These further testimonials on the HASLEMERE FIRST FACEBOOK PAGE were from the time Nikki Barton was a candidate for the Surrey County Council elections that were held in May 2013. She was duly elected on 3rd May 2013, thanks to great community support.
It used to be said that if you cut Haslemere through its centre it would be blue all the way through. Times have changed and even the die hard Tories are disgruntled. We have had nothing but frustration and poorly thought out policies from our Tory council and councillors for the last 2 years at least. Haslemere is changing and voting Nikki Barton in as an independent councillor who has Haslemere as her priority is the way forward! I support her wholeheartedly! Viv Shorleson, Haslemere First page, Facebook

Coming out of Facebook hibernation to express my admiration and support for Nikki Barton who is running as an independent in the county council elections on Thurs 2nd May. I often find myself thinking that the only way to change things is to get involved and Nikki is certainly doing that, despite having three young children and volunteering locally. After spearheading the parking campaign in Haslemere last year, I think she sees that she can make a difference, putting issues ahead of party politics. Nikki, I salute you! Pamela Gimblett, Haslemere First page, Facebook

Good luck Nikki – you are a breath of fresh air! Georgie Cullen, Haslemere First page, Facebook
MANIFESTO TESTIMONIALS
Nikki is passionate about the Town in which she lives and is prepared to find time out of her busy schedule as a young mother to fight for the benefit of this our Town and the surrounding countryside. Unlike most other candidates who put their Political Party first, Nikki will always put the people of Haslemere and their wellbeing First and Foremost. Ken Griffiths, Manifesto Leaflet, Haslemere resident

Nikki cares about the future of the town and will listen to what local people think is important rather than follow the party political view. Julianne Evans, Manifesto Leaflet, Haslemere business owner, JL Nobbs

Nikki listens and she cares about people and their aspirations. She is real and does not try to be what she is not.She knows she cannot be all things to all people but she will not fob them off with platitudes either. Robert Serman, Manifesto Leaflet, Haslemere resident
TWITTER TESTIMONIALS (@VoteNikkiBarton)
I have known Nikki for several years. She is loyal, trustworthy and passionate. Will be a superb councillor for Haslemere. Ian Holden, via Twitter

It's a brave thing to do. To be an independent candidate in a Tory *stranglehold* @VoteNikkiBarton deserves support in #Haslemere on 2nd May. Melanie Rollinson, Woodie & Morris, via Twitter

Delighted ur on Twitter. Will support u! Your commitment and dedication to local life is admirable. Bisous. Xx @VoteNikkiBarton, Anna Marie Hunt, via Twitter