Here are some Highways/Parking updates for Haslemere –
Lower Street: The current proposed start date for road repairs in Lower Street is 20th January 2017 and the work will be completed at night for 1 day.  However, with the current weather, the repair date could change.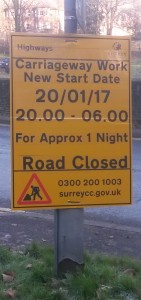 Kings Road:  Resurfacing is scheduled for 25th January 2017.  Sometimes plans have to change, often due to bad weather or problems on other works in the same programme which can have a knock on effect. If anything changes with the details of these works, we will let you know. This leaflet has been distributed to residents and local businesses and contains more information.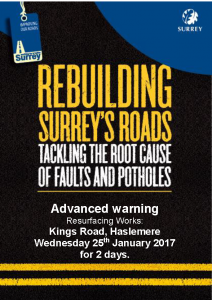 Sturt Road: Works are scheduled to complete by the end of January. I will have an exact date by Monday afternoon when I meet with the Surrey County Council highways team.
Residents can also find up to date details of the works on www.surreycc.gov.uk/roadworks
If you have any questions please do not hesitate to contact the council on 0300 200 1003.
Double yellow lines in the vicinity of St Bartholomew's church: I have met the church and residents about this with Surrey County Council's parking team. As a result of this, it has been agreed that a parking restriction scheme will be put in place here with yellow lining. It will be implemented this year. I have contacted the parking team to get an installation date.
Extended Double Yellows Hill Road/Midhurst Road: Extended double yellow have been agreed at the junction of Hill Road/Midhurst Road to improve sightlines. I await a date from the parking team.