Yesterday, I shared a press release about the inaugural Steering Group meeting of the Surrey Hills to South Downs CRP. More here.
Andy Harrowell, South West Railway's Community Rail Manager and I were interviewed about the project by BBC Surrey.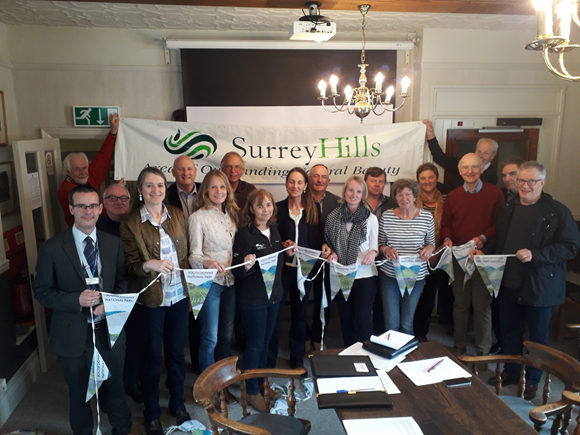 Here is a transcription of the interview, which helps explain more about this initiative.
BBC Surrey: A new community group has been set up to help look after train stations in parts of Surrey, particularly around the Surrey Hills and the South Downs area. The Community Rail Partnership, as it's called, will work alongside South Western Railway to make stations more attractive and to help publicise destinations. Andy Harrowell is from South Western Railway and says the volunteers will take on a number of tasks, and visitors will start to notice a difference.
Andy Harrowell: Community Partnerships are all around four different pillars of work. That's looking at things such as promoting healthy and sustainable travel, supported and social development as well as including quite a diverse audience. The actual work tends to come down to an agreement of an activity plan between a range of different stakeholders and partners to traditionally to see things such as line guides, which helps to promote destinations accessible from stations. It could be looking at how you can promote gardening or volunteering at the station, as well as raising awareness of other links between different methods of transport and the railway.
BBC Surrey: Now, I tend to use the train quite a lot throughout the course of the year to get around. And it's quite interesting to notice differences between stations because you do stop off with some stations, where you know, a lot of love and care has gone into the upkeep. You see beautiful flower displays and artwork as well. Is it likely that at these stations that's the result of the volunteers with the CRP?
Andy Harrowell: Yes, that's very much the case. So, we have what we know as station adoption. What we're doing is trying to look to work with volunteer groups who want to adopt their station and help it further reflect the local area, which can often be through art or gardening or a book swap. So, we've actually got 18 of those registered with us across the network and that's everywhere from Inner London, Brentford down to Templecombe and Wareham.
BBC Surrey: So that's Andy Harrowell from South Western Railway talking about the launch of this new Community Rail Partnership in the Surrey Hills and the South Downs area. Let's find out some more. Nikki Barton is a councillor for Haslemere and just happens to be Chair of the Community Rail Partnership steering group as well. Good evening, Nikki, hopefully you had a chance to listen to what Andy was saying there. So, some exciting plans ahead. What is in store for the group? What can we expect?
Nikki Barton: Well, it's a really exciting initiative. We're really delighted to bring together a fantastic range of partners. Our new partnership is called The Surrey Hills and The South Downs Rail Partnership. We brought together the South Downs National Park, The Surrey Hills, and the parish councils and various community groups from each of the communities along the line. In terms of projects, we've got a whole range of initiatives and ideas. We'd like our stations to be a lot more attractive, to have more planting. As you were saying earlier, in your earlier piece, some art too. We'd like to follow some of the passion of Love Haslemere Hate Waste, and have water refill units at the station so you can avoid single use plastics. We would really like to encourage tourists to come down to visit. We get big groups of people coming down from London, rambling up into the South Downs and The Surrey Hills. At the moment, when you arrive at our stations, there's no guidelines, there's no map. So, we've been developing some Rail To Trail and Rail To Ramble maps that serve the station. <more here>.
BBC Surrey: Basically, it's making the visitor/the passenger experience that bit better.
Nikki Barton: It is. I think the interesting thing about the project is that you can look at it on a number of levels. So yes, the visitor experience but also we'd really like to improve it for the everyday user travelling through Haslemere station. We have got over 1.7 million passenger journeys a year. It's a huge number of people using the stations. And there are areas that we could really do with improvements, for example, we'd really like to improve the integration between the bus and the train network. At the moment, it's almost impossible to commute from a village or outside the town because the buses don't connect with the trains, for example. I think there is a great range of initiatives that this Partnership will explore going forward.
BBC Surrey: Okay, I mean, I'm not sort of courting controversy here. But I'm just intrigued by the idea that this relies on volunteers … Is it right that basically sprucing up our network and our stations should fall to volunteers?
Nikki Barton: Yes, I think that's a really good question. We do have some amazing volunteers that give a lot of time. I do at times wonder, given how much rail travel costs, whether that should be something we're doing but, I think it's all about community pride. And in each of the villages and the towns along the route of this Rail Partnership, the station is really our main transport hub. If it's looking good, and it's attractive, it's good for us all. One of the key elements is really to encourage people to come and visit our amazing towns. Haslemere has got fantastic businesses, independent businesses, and what we'd really like to do is, by making the station an attractive place, and the same with Witley, and Milford and in the future, Godalming and Farncombe, that people come down to see towns on the line and go and have a coffee, buy a book and explore the towns as well. It's about really a holistic approach to our community
BBC Surrey: And you can't argue with that. And just finally, in a few words, how can we find out more and look to become a volunteer?
Nikki Barton: Well, if you look online, we have set up a new website – Haslemere Community Rail Partnership. I think we've got Surrey Hills To South Downs website up and running as well. So, you can find it all that online.
BBC Surrey: Good stuff. Nikki, thanks for joining us this evening. Have a great weekend. And I look forward to our stations around Surrey and The South Downs area looking at a little bit more spruced up as we move forward.