Sharing a guest blog post written by local business man, David Goddin. David is a volunteer for the Haslemere Community Rail Partnership and set up the website which you can see here. David writes:

There's a powerful new force spreading across UK railways. It has the capacity to make a real difference for the travelling public – and local economies across the nation. It's called community rail.
In essence, community rail is groups of volunteers – often with the backing of local business and other organisations – who adopt 'their' stations and work alongside the train operators and Network Rail to enhance facilities and make them more attractive for regular travellers and occasional visitors.
Community rail is not a convenient public relations cop-out for either the station owner (Network Rail) or the station management – usually the route's dominant train operating company (TOC). Community rail
Irrespective of any arguments on how the railways are organised, the fact is that the infrastructure and rolling stock needed to provide any reasonable service requires huge investment. And there's not much left for frills.
Sure, Network Rail and the TOCs could do more for local stations – but inevitably at a cost to the passenger and the taxpayer. The likely result would probably also see a blanket range of improvements with little chance of station individuality.
Community rail, on the other hand, draws on funding from local and central sources to finance individually tailored and locally driven projects to enhance the interface between train and the area a station serves. If these projects are a success, they could help to boost ticket sales for leisure travel – making off-peak train services more profitable.
I became involved in this non-political movement when our local chamber of trade and commerce was showing interest in a local initiative to form a community rail partnership (CRP). We worked together with a number of other local voluntary organisations, as well as the town council, the South Downs National Park Authority and, more recently, the Surrey Hills Area of Outstanding Natural Beauty, to create the Haslemere Community Rail Partnership.
This was made possible through ongoing support from the Association of Community Rail Partnerships (ACoRP) and our TOC – originally South West Trains and now South Western Railway.
As with many other station adoptions, we have a small team who regularly tend the station's flower beds. But our activity goes much further.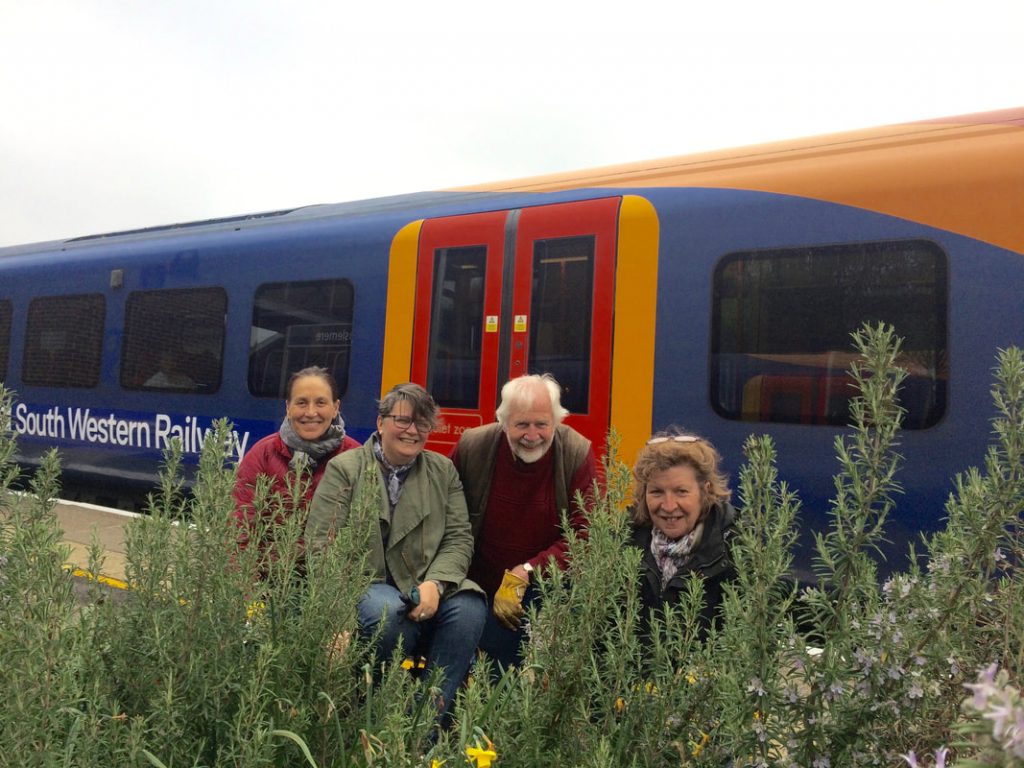 Haslemere was fortunate to have a vacant small retail premises on the station forecourt, next to the ticket hall and gateline. The CRP has been able to take this over to use as an 'information hub', staffed by volunteers who share local tourist information, maps and leaflets with visitors – especially those wishing to enjoy the abundance of walking and cycling routes in our area.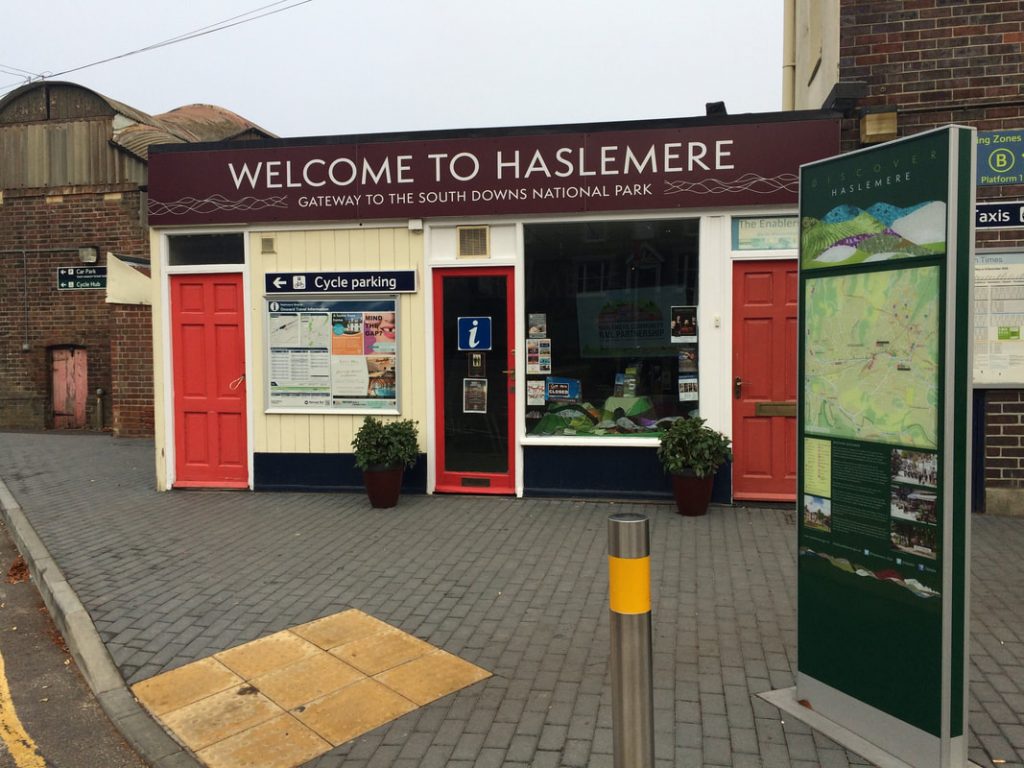 The Information Hub exists to extend a warm welcome to visitors, helping them to choose destinations and routes that suit their taste – both scenic and commercial. We are fully aware of the importance of the tourist pound, and every one that visitors spend here is a win for the local economy.
We are currently negotiating for alterations and improvements to the Hub, to create additional space and greater visibility –­ both to visitors and the thousands of commuters who pass it each day. The improved Hub will provide enhanced publicity opportunities for local organisations. We also hope that it will lead to an increase in volunteer numbers, facilitating longer opening hours.
In another exciting development, our CRP has just been upgraded to the Surrey Hills to South Downs Community Rail Partnership which will see our influence spreading northwards through local volunteers at four as-yet unadopted stations: Witley, Milford, Godalming and Farncombe – with all of which we have much in common.
Right now we are working on a range of ideas for projects that could win central funding and contribute significantly to an improved travel experience through Haslemere, which this year celebrates 160 railway years.
Community rail is highly regarded in official circles, as were reminded at the recent ACoRP-led Community Rail in the City event at London Waterloo in ad hoc face-to-face contacts with Andrew Jones MP, Parliamentary Under Secretary of State, responsible for railways, at the Department for Transport, and Sir Peter Hendy, Chairman of Network Rail.
So what do I see in it? Well, aside from the opportunity to make a small voluntary contribution on the fringe of the rail sector (partly appeasing the long-held boyhood desire to be an engine driver) community rail has much to offer to a wide range of businesses. That strengthens demand for communication – and that's the challenge I thrive on.
Click here to read David Goddin's original article on his own website.