The inaugural Steering Group meeting of the Surrey Hills to South Downs CRP was held on Thursday 13 June, following the group's registration with the national body, the Association of Community Rail Partnerships (ACoRP). CRPs are not for profit organisations created to help further link local communities with the railway. Full press release here.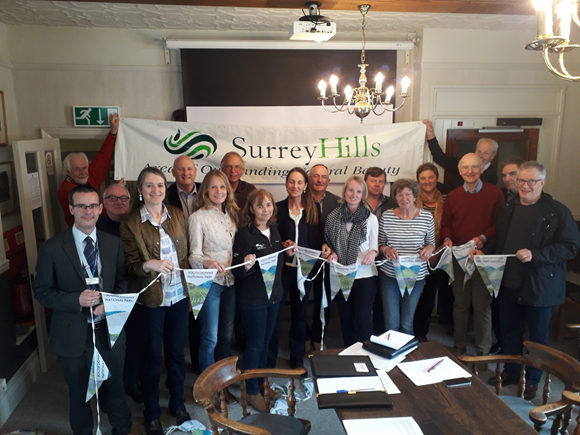 The new CRP, which covers Haslemere to Milford, with aspirations to extend to Farncombe, includes partners from Surrey County Council, South Downs National Park and Surrey Hills Area of Outstanding Natural Beauty, met to agree its action plan for promoting the destinations along the line, as well as encourage greater use of sustainable and healthy transport. It also considered bids that could be submitted into SWR's Customer and Communities Improvement Fund (CCIF), when it is launched later in the year.
The CRP has grown up from the long-established station adoption of Haslemere, which includes art displays, the tending of green areas and planters, as well as the creation of a dedicated Information Hub, staffed by local volunteers.
The group is also working closely with the operator to provide one of its unique Try the Train days for the local school, supporting pupils as they prepare to make the step to secondary school, developing their confidence with rail travel.
SWR's Community Rail Manager, Andy Harrowell, said:
"We already provide support and funding to 8 CRPs across our network, helping to involve our communities with our stations and services, and are delighted to welcome this new addition. The adoption work at Haslemere has made a real difference to the station and we look forward to working with the CRP to deliver similar enhancements along the line. We have already provided finances to support the Hub this year and will be discussing with the CRP other project funding for the future, based on the action plan discussed."
Surrey County Councillor for Haslemere, Nikki Barton, Chair of the Steering Group said:
"The new Surrey Hills to South Downs Community Rail Partnership has come together thanks to the vision and hard work of our dedicated volunteers and partners, and with the invaluable support of SWR and ACoRP. We have exciting plans for a range of projects going forward, which build upon the key role our train stations play in the vitality of our communities and their strategic locations as gateways to the beautiful surrounding countryside."
Allison Thorpe from South Downs National Park Authority, and Caroline Price of Surrey Hills Area of Outstanding Natural Beauty, added:
"2019 marks 70 years since the Government passed an Act of Parliament to establish national parks and Areas of Outstanding Natural Beauty. In this anniversary year, both the South Downs National Park and the Surrey Hills Area of Outstanding Natural Beauty are delighted to come together in this the new line partnership to encourage more visitors to access these special places by rail."
Station adoption see groups work with the operator to add a local feel to each location. SWR has committed to helping each group register with ACoRP, paying their membership fees, as well as offering a specific fund to support work. SWR has 18 ACoRP registered station adopters across the network, ranging from Brentford, to Templecombe and Wareham. It is keen to encourage more, and is in discussions with a number of groups to adopt stations in the future.
Contact Information
South Western Railway Press Office
SWR's family of Community Rail Partnerships include:
• Blackmore Vale CRP (Tisbury to Crewkerne)
• Devon and Cornwall RP (Axminster to Exeter)
• East Hants CRP (Liphook to Rowland's Castle)
• Hounslow line CRP (Barnes to Feltham)
• Island line CRP (Ryde Pier Head to Shanklin)
• Lymington to Brockenhurst CRP
• Purbeck CRP (Moreton to Holton Heath, including Swanage Railway)
• Three Rivers CRP (Salisbury to Bursledon / Winchester, via Romsey and Chandler's Ford)