Please find attached the leaflet for the traffic light improvement works at the Lion Green/Wey Hill Tesco access junction in Haslemere. The leaflets will be delivered to local residents and businesses over the next few working days.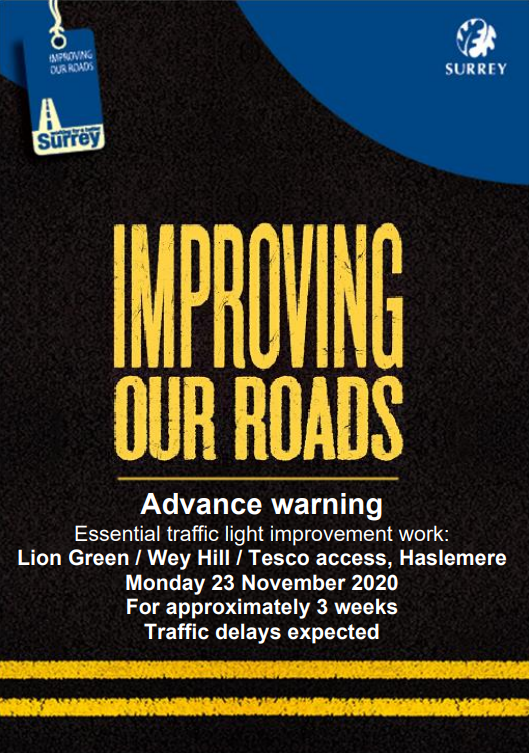 Lion Green/Wey Hill/Tesco access, Haslemere
Temporary traffic lights
23 November
For 3 weeks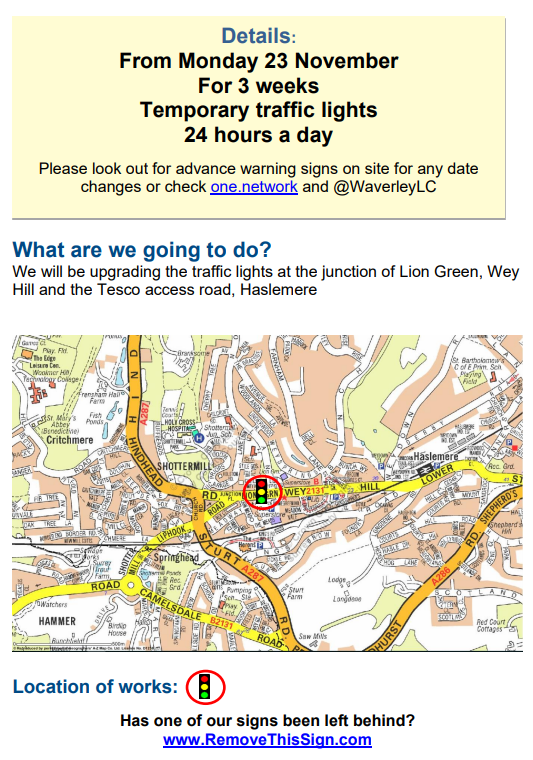 Please see the attached leaflet for the extents of our work.
Roadworks during the coronavirus restrictions
The government and Department for Transport have asked the Highway Sector Council to make every effort to deliver essential highways projects on all local authority highway networks, whilst abiding by the COVID-19 safe working practices. We are therefore carrying out these works in line with central government and COVID-19 safe working practises and in accordance with the CLC Site Operating Procedures, endorsed by Public Health England.
Our sub-contractor will have appropriate procedures in place to ensure their staff can comply with government advice. We would ask that you please respect these workers as they deliver these highways services.
We will continue to keep Surrey moving and all key routes will remain open and safe for key workers. For more information visit www.ourroads.today.
Sometimes our plans have to change, often due to bad weather or problems on other works in the same programme which can have a knock on effect. If anything changes with the details of these works, we will let you know.
You and your residents can also find up to date details and receive updates of the works on https://one.network/
If you have any questions please do not hesitate to contact us on 0300 200 1003 or email works.communication@surreycc.gov.uk.
Kind regards,
Drew Buerger
Works Communication Officer
Works Communication Team
Surrey Highways
UPDATE 19th November 2020.

Traffic light works – Tesco/Lion Lane – I have a meeting with the project engineer on Monday Nov 23rd – start of works. I requested the works be delayed until after Christmas but have been told the traffic light posts are becoming structurally unsound and also that if the lights fail, the system is now obsolete meaning a repair will not be possible causing greater disruption so the works are urgently needed. SCC team have agreed to expedite works as rapidly as possible, and will provide manual lights for a minimum of 3 days after end of lockdown so they can keep traffic flowing and reduce tail backs.
Update 10th November 2020.
After concerns were raised by the local community regarding the impact these works may have on already struggling local businesses, the decision was made to postpone these works until early next year. The new date is yet to be confirmed and is subject to road space availability.