PRESS RELEASE – LAUNCH OF HASLEMERE COMMUNITY STORE
A new initiative, the Haslemere Community Store, launches this Thursday May 21st. in Haslemere Hall.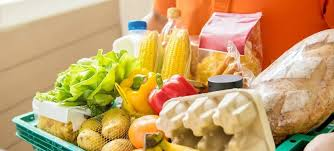 The Community Store is a temporary volunteer-run community project, operating out of Haslemere Hall two mornings each week. It has been set up to help residents that find themselves in need of food and household supplies during the Covid 19 emergency – and is open to anyone also using the Food Bank who has additional need. The Store will secure some supplies through the FareShare scheme, thereby reducing food waste and provide support in Haslemere and surrounding villages.
Haslemere's Surrey County Councillor, Nikki Barton has been working in collaboration with Haslemere Hall, Haslemere Community Kitchen, Haslemere Help and the Food Bank, with the support of Haslemere Town Council to launch the store.
Cllr Barton told the Haslemere Herald:
"The Haslemere Community Store is intended to complement the invaluable work of the Haslemere Food Bank. The Food Bank continues to provide vital support for the vulnerable and those experiencing hardship. I understand there has been a significant increase in referrals to the Food Bank during the Covid-19 crisis. There has also been a surge in donations from Haslemere's extremely generous residents and local supermarkets."
The Haslemere Community Store is planning to make an additional collection for donations around the town once a week on behalf of both the Food Bank and the Community Store. Haslemere Help volunteers have been recruited to help run the Store.
About Haslemere Community Store
If you have become unemployed, been furloughed or waiting for Universal Credit, don't go without. The Haslemere Community Store can help you with a variety of food, toiletries and household products available free of charge to support people living in Haslemere. The Community Store is located at The Haslemere Hall and will be open Mondays & Thursdays (10.30am – 12.30 pm). Strict social distancing will be observed, with no walk-ins. If you need help at this time, book your slot to visit by either calling or texting the helpline 07873 383954 or by emailing haslemerehelp@gmail.com.
About Haslemere Food Bank
The Haslemere Food Bank provides emergency food support to local individuals and families. It was set up through the collaboration of local Churches, though is now run by a management team and a pool of volunteers representing the whole community. People in need of food support are referred by local agencies as the need arises. If people need help with food, and are in touch with the Health Centre, the Citizens Advice Bureau, 3 Counties Money Advice, their child's school, local churches, or any of those agencies which work to support people at times of difficulty, just ask to be referred and the Food Bank will help.
Press Enquiries:
Haslemere Town Council, Town Clerk; town.clerk@haslemeretc.org
Surrey County Councillor, Nikki Barton, Nikki.Barton@surreycc.gov.uk
Mr David Rice, Chairman, Haslemere Food Bank dnarice@btinternet.com
Article in The Haslemere Herald: Community store opens its doors in Haslemere