Shepherds Hill potholes
There have been conversations with residents and SCC on this issue. As well as arranging a site visit with John Hilder (Local Highways Manager), I also met with Trevor Pugh (SCC Highways Strategic Director, Environment and Infrastructure) to request urgently needed road repairs on the A286 on Shepherds Hill.  While individually the potholes apparently fail to meet the 'safety matrix' requirements for immediate repair by SCC Highways, I explained that drivers are now swerving to avoid the 'chicane' like series of potholes, onto the opposite carriageway creating a significant safety hazard.  In addition, I pointed out that a large number of valuable vintage cars and motorbikes will be travelling up Shepherds Hill en route for the Festival of Speed at Goodwood this weekend.

I have been pressing SCC Highways for a date for the Project Horizon resurfacing, but as I understand that likely date for this will be October/November at the earliest, I requested that a decent quality repair of the holes be made before the Festival of Speed traffic starts arriving.
Good news, or so I thought, I heard on 12th July that Shepherds Hill should be repaired on that same day,  before the Festival of Speed. Unfortunately, SCC's contractors repaired just one pothole. This is very disappointing and the contractors have now placed signs at the foot and top end of Shepherds Hill.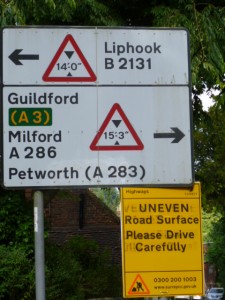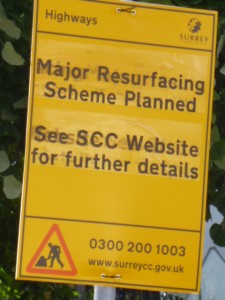 Large Tree at foot of Shepherds Hill
I've been informed that tree branches are obstructing sight lines. I've spoken with officers about this.
Haslemere Vision

Attended Haslemere and Villages Vision steering group meeting.  The Vision is a non political, community led forum to enable everyone who lives or works in Haslemere and surrounding villages to pool ideas and resources to create a master plan for future development.  The Vision has pledged to use new Localism powers to undertake and deliver projects that preserve and enhance the wellbeing of the area for the benefit of all those associated with it.
A new questionnaire (click here) has been launched this week on the website (www.haslemerevision.org.uk) to ensure as many views as possible are taken into account (paper copies available at the Town Hall, Haslewey, The High Lane Community Centre, Haslemere Library and Haslemere Hall).
After many months of preparation the Vision will start to work on drafting the Haslemere Neighbourhood Plan in September. More volunteers are needed to join both the steering group that will lead the process forward, and the five working groups to develop the policies and proposals that will inform the plan.
The 5 work groups are: 1) Transport, traffic and parking 2) Environment- built and natural (including housing) 3) Economy and Local Business, 4) Culture, Education and Leisure and 5) Well being Health and Inclusion.
Please get in touch with Haslemere Vision via the website or email info@haslemere.org.uk if you are interested in any of these issues and want to play a part in Haslemere's future.  The Vision is open to everyone, and everyone's views count.
Surrey CC Police: Waverley Safer Neighbourhood Team
Met with Tom Budd, Surrey Police Neighbourhood Commander who is based at the Bury's, Godalming to understand the policing provision for Haslemere.
Haslemere is one of the communities within the Waverley Safer Neighbourhood Team, which includes 13 Neighbourhood Police Officers, and 17 Police Community Support Officers (PCSO's)who deal with local issues and low-level crime.  PCSO's have the power to seize alcohol, drugs and to stop vehicles requiring the driver to provide name and address. They have no powers of arrest.
Haslemere, Grayswood and Chiddingfold are served by Neighbourhood Police Officer PC Swindell and Community Support Officer George David.  (http://www.surrey.police.uk/my-neighbourhood/waverley/wvhg/meet-the-neighbourhood-team).
Regular local neighbourhood policing team surgeries are held: coming up
Meet the Beat: July 24th, 2-3pm at The Wheatsheaf Inn, Grayswood Road, Haslemere
Meet your Neighbourhood Staff, August 6th, 11-12.00am at Haslemere and District Community Hospital, Church Lane, Haslemere.
In addition cover is provided by an:
Emergency response team based in Guildford responding to 999 calls. Each shift has 4 cars located around Waverley.
Dog units, 4 for Waverley
Detective team
Casualty reduction officer and 2 roads policing support officers
Domestic violence team
An innovative multi-agency Safer Waverley Partnership has been established between:
Guildford & Waverley Clinical Commissioning Group
North East Hampshire & Farhnam Clinical Commissioning Group
The mission statement of the partnership is "Feeling Safe and Being Safe in Waverley". An annual Strategic Assessment of crime and disorder issues in Waverley is carried out and an action plan is drawn up showing how the partnership intends to tackle the issues highlighted.  The Partnership also works with many other organisations to deliver projects and improve community safety.  The Partnership has several delivery groups focusing on areas, individuals and different types of crime and disorder. It also links with groups at divisional, county and regional level.
The partnership has a strong focus on preventative work, initiatives include:
Providing free home fire alarm checks
Ride it Right scheme to reduce motorbike casualities on the A3
Road User Awareness Days for Year 11 pupils across Waverley
Safe Drive, Stay Alive courses for over 16 year olds
Free panic alarms and shed locks for vulnerable residents
Youth intervention team enters into acceptable behaviour contracts with young people.   As a measure of the success of the strategy, there has not been a report of antisocial behaviour on Lion Lane, Haslemere in the past 6 months. Haslemere officers PC Swindell and PC Will Davis are very proactive locally.
Safer Waverley initiative identifies local trouble hotspots where individuals are either causing trouble or are vulnerable.  The Community Incident Action Group brings all parties together as part of a Joint Action Group to make sure that the proposed interventions are the most effective.
Tom Budd highlighted  the disconnect between public perception of crime levels and the reality.  I raised the question of household burglary and was very surprised to learn that there are on average 10 'dwelling' burglaries per month across Waverley, (the burglary hot spot is Farnham) and on average 40-50 non dwelling thefts (sheds, garages etc) per month.  The Commander stressed that community feedback is vital in building up an intelligence database.
We also discussed the often hidden issue of domestic violence, often linked with high levels of alcohol consumption.  The problem is growing due to the pressures of economic recession.  Commander Budd explained how victimless prosecution is possible if a victim is too afraid to testify, and safe sanctuary is provided where needed.  The Christian Alliance charity receives partnership funding to provide support for survivors of domestic violence.
Surrey police work closely with Sussex and Hants forces via embedded officers, joint operations and regular cross border crime meetings to share information.
I expressed my appreciation for George David, Haslemere's wonderful Community Support Officer. George is a very positive presence in the town, who regularly helps St Bart's children with the walking bus, and crossing to get to school.  I discovered last year that he helps the walking bus even if he is officially not on duty and so not being paid for his time.  George definitely goes the extra mile and I believe Haslemere is very lucky to have him working in our town.
Fracking, Fernhurst and potential impact on Haslemere

Received a number of emails from residents concerned about Celtique Energie's planning application to the South Downs National Park Authority for "the siting and development of a temporary exploration borehole, well site compound and access road including all associated infrastructure and equipment, for the exploration, testing and evaluation of any discovered hydrocarbons through the drilling of a vertical, and a contingent horizontal well from the same borehole:" at Nine Acre Copse, Fernhurst.  A campaign group has been established http://www.frackfreefernhurst.com/.
Clearly if large shale gas reserves are identified as being exploitable, there will be a considerable environmental impact on Haslemere, arising from an increase in lorry traffic through the town and the potential long term impacts of the fracking process on the ecosystem in particular on water resources.
I understand fracking has been banned in France, Germany, Switzerland, Austria, Romania, Bulgaria and several states in the USA due to environmental concerns. It is a new topic for Fernhurst and environs and certainly one in which it will be vital to understand many implications, both for and against.
St Bart's School, Derby Road
Received a reply to my email sent to SCC leadership expressing my concern about the state of Derby Road in front of St Bartholomew's School.  Apparently there are a number of schools across the county in the same position as St Bart's, sited on private, or unadopted/unmaintained roads.  SCC has agreed to address the issue to try to find a way forward.  This is an excellent step forward.
Residents only parking permit scheme

Residents only parking permits have been introduced around Haslemere.  The impact of the scheme will be reviewed and reported in the December parking review.  Feedback can be sent to David Curl, SCC Parking Team david.curl@surreycc.gov.uk.
Lion Green, Haslemere

Met with Jim Edwards, Waverley Borough Councillor (Shottermill Ward) and Haslemere Town Councillor, and David Curl to discuss parking issues on Lion Lane.  David Curl has agreed to include key issues in the December parking review for consideration.  Yellow lining to improve safety for Shottermill Infant School pupils, and to provide passing spaces on Lion Lane have been implemented this week.
Haslemere Town Council Application for Community Improvement Scheme Funding
Provided written support for HTC application to SCC Community Improvement Fund to upgrade and refurbish play equipment on Lion Green.
Waverley Borough Council Car Park Permit Pilot Scheme
While delighted that Waverley have acted so swiftly, following the meeting I recently organized at the Georgian to see how collectively we could support businesses in the town, I am concerned that the parking permit scheme pilot has not been developed with any wider consultation with the business community.
The pilot scheme proposes to sell an initial 50 permits for £50/year giving the holder parking between 3-5.30pm in the Waitrose car park.
There are many examples of successful initiatives across the country as other councils are supporting their high streets.  For example, Chester's 'Free After Three' parking scheme introduced 3 years ago has greatly increased footfall in the towns shops, and has been successfully copied by many towns.
Given the feedback that the recent increases in parking charges in the Waitrose car park are having an impact on the number shoppers who stay on in town to visit other shops, I am disappointed that WBC are not able to go further and work with a wider group of stakeholders to develop a more substantial  initiative that would have more impact in attracting shoppers to the town.

Independent/Residents Association Councillors' Meeting, Kingston

Met with other 8 independents/RAs councillors in preparation for full council on July 16th.  One of the issues discussed is the £100,000 performance related bonus that will be awarded to David Mc Nulty in 2018, and the appointment of a number of cabinet associates without any full council consultation.
Creating a Buzz On Our High Street
The Haslemere District & Chamber of Trade will be hosting an event in Haslemere Hall on Tuesday 16th July  'CREATING A BUZZ ON OUR HIGH STREETS'. Click here for more details.
Haslemere Museum Founders' Music Festival
This will be on Friday 19th July 2013, 7pm to 1pm and Saturday 20th July 2013, 12pm to 11pm at Haslemere Museum. More information here: FOUNDERS FEST flyer.