Here is an update for you on the Shepherds Hill road closure in Haslemere. Please also look at my Facebook page where I have been posting interim updates here and via my twitter feed here.
Thank you to everybody who has emailed me regarding the Shepherds Hill closure. I can only say that I share your collective frustration that Shepherds Hill is still closed and we still await a full diagnosis of the extent of the void.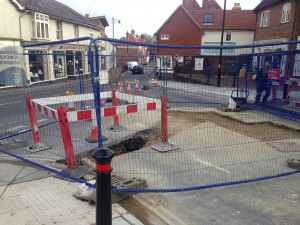 I have been in constant contact with SCC and Thames Water for updates and progress reports since the hole was discovered.  Initially, it was presumed responsibility for the sink hole lay with Thames Water. From a surface view the hole looked like a wash out hole linked to the loss of soil/substrate by water. The weekend work that Thames Water promised failed to materialise, apparently the team was diverted to a pollution issue that took precedence. Eventually Thames Water did come on site, sent CCTV cameras into their sewers and drains and having spotted a couple of leaks, carried out the necessary repairs.
SCC Highways then took over the site, sent CCTV cameras down the hole with the expectation of pouring foam concrete down the hole. However, during last week, it became apparent that the void was more substantial than expected – rather a series of mini caves. Subsequent investigations in the sink hole have revealed remains of brick walls suggesting the basement or foundations of an earlier building – old maps show an old building at this position. There may be a link with the bunker under the grassed area by the zebra crossing.
SCC plan to send a ground radar camera into the sink hole, however, 2 electric cables belonging to SSE have been seen hanging in the void and the SCC team is unable to work without the SSE team onsite. I understand the SSE team did not attend the site as expected at the end of last week or yesterday so the SCC Highways team have had to be called off the site each time. SCC Highways have found that the highway is cracking at some distance from the sink hole mouth.
A key priority is the safety of both the SCC workman carrying out the work and the public. The scale of the void combined with the presence of electricity cables has further complicated the issue and means that the problem will not be resolved as quickly as hoped, or anticipated when the sink hole was first discovered. Unfortunately the utility companies are under no legal obligation to attend the site if other higher priority issues arise.  I hope this information is helpful. I am speaking with the highways team every day for updates and will of course continue to let you know when I have more news.
Best regards Nikki