I have been asked by The Friends of Woolmer Hill to publicise Hillfest, which takes place on 15th June at Woolmer Hill School.
Forget Glastonbury, Saturday 15th June 2019 sees the return of the most exciting music festival of the year, Haslemere's HillFest! Taking place in the beautiful grounds of Woolmer Hill School, this family friendly festival showcases a host of incredible local talent and is supported by the Haslemere Fringe and the Music Works.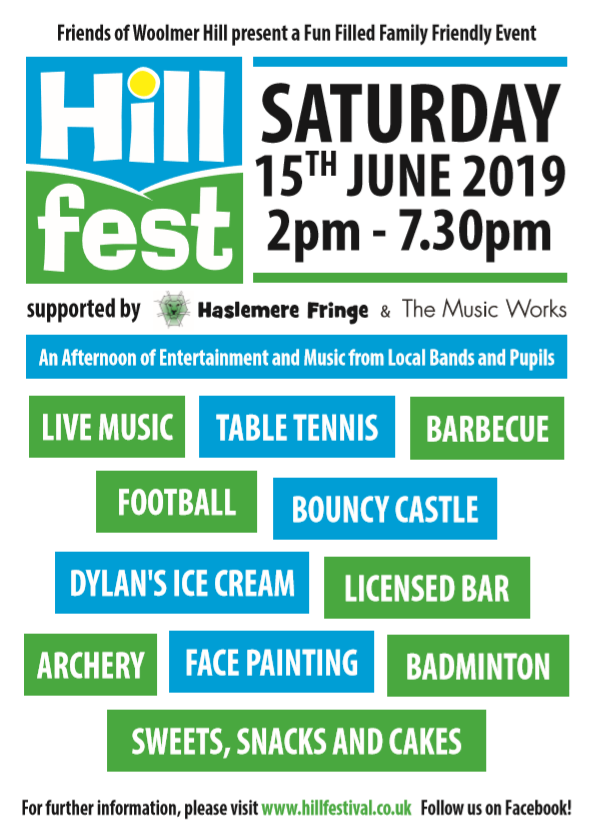 Following on from the success of the first HillFest two years ago, which had over 800 attendees and a brilliant line up of acts, this year's festival is going to be just as good – if not better! Bands booked to perform so far include the alternative rock band, Cause for Concern (who are just about to release their debut EP!), indie/pop Woking band Sour Kix (veterans of numerous festivals and support of many big names, from Jessie J to the Kaiser Chiefs), young indie rockers St Paulo and indie/funk/fusion, the Tropics. Along with dancers, poets, musicians and other performers, HillFest is the perfect way to enjoy an afternoon of music, fun, food and sport – right on your doorstep. Festival-goers can flex their sporty muscles and have a go at archery, table tennis, football and badminton and satisfy their tastebuds and quench their thirst with a range of delicious food stalls and a licensed bar.
Organised by the Friends of Woolmer Hill, a registered charity, all money raised will go straight back to helping provide a better environment for the school pupils. Profits will be used to purchase essential science, arts and sports equipment plus allow the school to continue with its annual 'Community Week' where pupils undertake a wide range of enrichment activities.
Thanks to the involvement of the Haslemere Fringe and the Music Works, HillFest gives young people the opportunity to perform at a professionally run festival and the local community a fabulous music-filled afternoon. If you're interested in performing, or would like more information, then please contact Friends of Woolmer Hill via the Hillfest webpage www.hillfestival.co.uk.