ACoRP – the Association of Community Rail Partnerships – is the membership body for almost 50 community rail partnerships, representing over 80 community rail lines across the UK, as well as more than 1,000 station adoption groups.
The Haslemere Community Rail Partnership was established in October 2015 with the purpose of promoting Haslemere and its surrounding countryside, to promote rail travel to the town as a more sustainable travel mode and to improve the station and forecourt environment. You can read more about it here in this town council document and here in a past update on this blog.
In Haslemere today, I spent a few hours weeding and tidying the flower beds on the platform. There is more work to be done!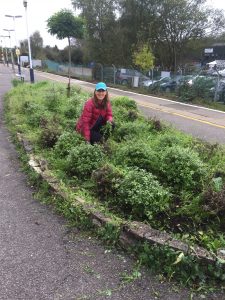 If you are free for an hour or two on Thursday morning from 9am, please do come along with gardening gloves for some gentle weeding. I'll bring a flask of tea for us to share.