SCC Cycle Strategy Survey
SCC's Cycle strategy survey – www.surreycc.gov.uk/cyclingstrategy – closes on November 1st, 2013. The survey only takes 5 minutes to complete. Please do take part if you're an individual or you're part of a cycling club/organisation and you are interested in making our town a safer place to cycle.
I am motivated by the fact our children and young people cannot cycle safely around Haslemere.  Unlike children in towns and cities across northern Europe, most of our children are ferried to school and their activities by car.  Children enjoy less personal freedom and independence, get less exercise, the cars they are driven in pollute and cause congestion, the time consuming taxi service provided by parents and carers creates stress for all and petrol prices continue to rise.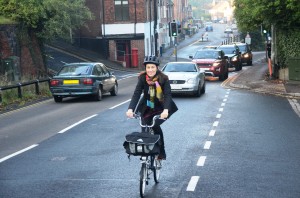 Clearly the geography of Haslemere, built on hills with many narrow roads presents considerable a considerable challenge to cyclists, but I believe we can improve the situation. Safer crossings, and reducing traffic speeds are a first step to making cyclists and pedestrians feel more confident about leaving their cars behind.
You may interested to listen to Surrey's cycling debate hosted by BBC last week. Click here for audio.
A new petition calling for a 20mph speed limit in Haslemere town centre has been launched by a resident of Haslemere: http://petitions.surreycc.gov.uk/20mphzone/
Making Haslemere a better place for cyclists can also bring economic benefits from cycle tourism. Haslemere train station has been identified as a 'gateway' to the South Downs National Park within the Two Parks Project (New Forest National Park, and South Downs National Park). Department for Transport Local Sustainable Transport Funds of £150,000 have been awarded to Haslemere as part of the Two Parks Project for initiatives to reduce the impact of traffic on the two parks.  In Haslemere, funds are being used to upgrade a section of the Serpent Way bridle path, improve signage on the route and at the train station, and to support a summer Sunday bus service between Midhurst and Haslemere.
Local Highways Issues
Junction Place:  Met with local businesses and residents concerned about dangers of rat running through the slip road occurring since new double yellow lining has removed parked cars.  The white lining in response has not prevented the rat running.  The loss of valuable on street parking spaces by double lining has also been identified as an issue.
SCC Highways planned to install a bollard at the junction of the slip road with Hindhead Road, which on speaking with local businesses, I understand would impede their client parking and business vehicle access.
I have agreed with SCC Highways that the yellow lining should be removed and the previous situation restored.  The situation will be monitored to assess if a bollard is necessary in the future.
Weyhill Road/Hindhead Road: confusingly not included in Project Horizon, SCC road refurbishment program.  I have agreed with SCC Highways that a full repair of all potholes will be carried out in November, with a micro-asphalt top layer running from St Christopher's Green to the ESSO garage to be laid in the spring.
Derby Road, St Bartholomew's School section: Ongoing discussions with SCC Highways and Education departments to find a way to fund repair of increasingly deep and hazardous potholes. Invited Linda Kemeney, Cabinet member for Schools and Education to St Bartholomew's School.  Very productive discussion on both the school expansion plans, and the state of the road.
Pavements: Several stretches of pavement in the High Street are damaged. Haslemere currently has no funding available from SCC for replacement paving slabs, repairs are being made with tarmac.
Local Area Committee: Funded highways schemes 2013/14
Fosters Bridge: Local area committee funds currently committed for investigation into flooding problem, I will be submitting a bid for additional LAC funding (2014/15) to action any solutions identified.
Critchmere/Hindhead Road junction: feasibility study into traffic management improvements.  In addition SCC highways planning to prohibit left hand turn from right hand spur onto Hindhead Road to improve safety.
Coomers Triangle: feasibility study into one-way system. I have requested that this study be expanded to investigate how to improve safety for cyclists, pedestrians and drivers at Courts Hill Road/Hill Road junction with Shepherds Hill/Midhurst Road. I will be submitting a bid for LAC funding (2014/15) to implement any recommendations.
December Parking Review Issues For Consideration
Weydown Road: issue of dangers caused by double-parked commuter cars raised by residents.  Discussing possible solutions with residents, police and SCC highways.
Residents permit scheme bays: in some locations question over efficiency of use of limited on street parking capacity with resulting negative displacement impacts.
Courts Hill Road west: commuter parking creating access issues for residents.
Junction Place: single yellow lining outside Methodist Church and small row of shops removed valuable customer parking, one hour parking restrictions on Lion's Mead as church events often exceed one hour.
Bridge Road: displaced cars now double sided parking causing an obstruction, police notices put on fencing to reduce hazard risk.
Kings Road: Yellow lines by The Herons were filled in.
Meetings Attended
Two Parks Sustainable Transport Stakeholder Conference: Brockenhurst, New Forest. Attended in my role as SCC 'champion' for Haslemere within the Two Parks Project. A very interesting event looking at the future of sustainable transport in the New Forest and South Downs National Parks, while celebrating what has already been achieved.  Brighton's Fun Way to the Beach, Beach Bus, and the New Forest bus, cycle and Twizy (one man electric cars) tours,  www.brandnewforest.com, demonstrated what can be done. Richard Hammond, Chief Executive of Greentraveller, illustrated the power of social media campaigns in promoting sustainable tourism. His message was that selling 'an experience', rather than a destination is the most powerful marketing tool.  I believe Haslemere could be marketed using his approach, an idea I discussed with Richard and intend to follow up. You may be interested to view this BBC item, New Forest and South Downs National Parks discuss green transport.
One Team Working Together Workshop, County Hall, Kingston: bringing together members of Local Committee's and Community Partnership teams aimed at building relations between officers and members, and looking at how stronger links can benefit the residents of Surrey.
Waverley Local Area Committee, Cranleigh. Sept 20th.  Click here for meeting agenda, decisions and draft minutes. Requested that the Surrey Cycling Strategy be given proper consideration on next year's agenda. The next Waverley Local Area Committee meeting will be on 15th December 2013, in Godalming Baptist Hall.
Haslemere and Western Villages Task Group meeting, Churt Pavillion, Churt: Discussion with SCC Highways and Waverley Borough and Town Council representatives for Haslemere setting priorities for Local Area Committee highways improvements budget 2014/15.  The budget available to the Waverley LAC for highways improvements will not be specified until March 2014 at the earliest, however last year £800,000 was allocated to the LAC to be shared among Farnham, Godalming, Cranleigh and Haslemere and Western Villages. The agenda I have set for Haslemere (some listed above under Funded Highways schemes) includes: improvements to resolve recurring flooding at Fosters Bridge, 'gateways' on the approaches to the town, feasibility studies to improve pedestrian and cyclist safety at the Hill Road/Courts Mount Road crossing, the Lower Street/Shepherds HIll junction, and to consider a green way for cyclists/pedestrians avoiding Fosters Bridge in conjunction with a signed network of cycle, walking routes, an additional pedestrian crossing at Weyhill, replacement of the broken railings outside Claytons Jewellers in the High Street, and decluttering to remove redundant signage in the town. I also requested that a refurbishment of the red safety banding on the A286 entering Grayswood should also be included in the priority list, however I understand that this will be carried out during the Project Horizon road resurfacing planned for 2014/5.
Sturt Farm Development, Pre-Planning Application Consultation, Haslewey, Haslemere: Raised my concerns with planning consultants about additional pressure of the 150 planned homes on primary school places, Haslemere primary schools are currently close to maximum capacity, and on traffic flows on Sturt Road.  The lack of an adequate pedestrian path/crossing from Sturt Road to Kings Road in the plan at present is of concern.
Haslemere Vision, 2nd Visioning Workshop, Lady of Lourdes Church Hall, Haslemere: community engagement event. Please take the time to fill in their Engagement Survey.
Various meetings with SCC highways, parking, sustainable transport and transport policy teams at SCC Highways offices in Merrow and in Haslemere
Service for the Judiciary, Holy Trinity Church, Guildford, at the invitation of the High Sheriff of Surrey, Dr Helen Bowcock.  An annual service is held to celebrate the start of the new legal term and to offer support to those responsible for keeping the law of the land. During the service the High Sheriff read an Affirmation of the Shrieval Promise, a tradition that dates back hundreds of years.
Read press coverage and see more pictures of the Service for the Judiciary here.
Waverley Local Area Committee Private Briefing:  Wey and Arun Canal, proposals for Compasses Bridge, Surrey cycling strategy, and Surrey schools briefing.
Full Council meeting, Kingston, October 15th.: Click here for agenda and reports pack. spoke to support Lib Dem motion promoting openness and transparency in decision making.
St Bartholomew's School, Safer Travel Workshop: Presentation by St Bart's travel coordinator outlining the issues of travel safety, inconsiderate parking and congestion around the school. Parents, staff and local residents discussed ideas including more walking buses, car sharing, increasing scootering and cycling as possible solutions going forward.
Haslemere30 Food Festival: Introduced local schools cookery competition.
Residents Association/Independent Group, County Hall, Kingston:  Finance briefing outlining significant financial pressure on SCC budget combined with a high level of uncertainty as central government funding to local authorities is cut back further (2013, 10% real terms cut in total local govt funding) . Meanwhile demand on education, most notably the need to provide additional primary school places, and social care provisions grows.  Surrey residents receive the lowest Formula Grant support of any county area in England and the third lowest of all English upper tier areas.  Budgets in all SCC departments will need to make significant savings 2013-18.
Rex Cinema Memorial Service, Junction Place. and unveiling of memorial stone at Junction Place. Local resident Mick Bradford has worked tirelessly to research the crash of an RAC fighter plane into the Rex Cinema in 1942 in which 3 young airmen died.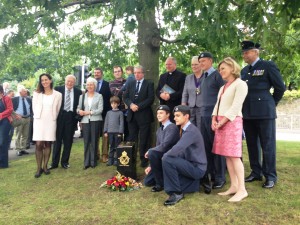 Mack Buckler, a local pupil at The Haslemere Preparatory School has made a national award winning short film about Haslemere in the Second World War. https://www.youtube.com/watch?v=GdRNUUXaPzg
This weekend, the Met Office has issued an Amber WIND Alert which covers all of London & SE England to cover the potential impacts from a low pressure system.  This warning also mentions the potential impacts from the rain. The Met Office warning can be viewed on Hazard Manager. Hazard Manager also has some graphics under the 'Events' triangle showing possible tracks of the system.
Gritting: Salt stocks are ready for winter – Surrey County Council's barns have been filled up with 16,000 tonnes of salt ready for ice and snow this winter. Surrey will also be able to call on more than 40 specialist gritting vehicles and a small army of farmers with tractors and ploughs to clear roads across the county. Haslemere's salting routes are outlined here. If you are a twitter user, please also follow @surreytravel for up to date information on gritting and weather, as well as other travel alerts for Surrey.
Lion Lane Post Office. I received a letter from the Post Office saying the Post Office branch in The Co-operative on Lion Lane is going to be modernised. This is part of a three year investment and support programme. The new look Post Office is scheduled to open at The Co-operative, Lion Lane on Monday 11th November 2013 at 13.00. It will need to close for refurbishment on Monday 4th November at 17:30.