This e-mail just came in from the production company, Rare TV, regarding the Haslemere BBC Pandemic Study:

Hi Nikki and Antoinette (Antoinette works for the Haslemere Visitor Information Centre)
It's been a very busy few days for us on the BBC Pandemic experiment. There have been a few technical problems with the BBC Pandemic app for some people  but we've had loads of people taking part too. We are filming a results event tomorrow, 2pm at Haslemere Museum. Would it be possible for you to share this on your social media? Everyone in Haslemere is invited, particularly those people who did take part. It's going to be exciting/nerve-wracking as I genuinely don't know what the results will be. Like making live telly!
And hopefully we'll see you there too with family/friends if you're free.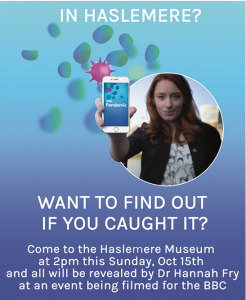 Update: Technical problems have meant a few people are getting a message on the app today saying the tracker has stopped – but it's okay, your data is good and you will still get your result tomorrow. As long as you don't delete the app and leave the screen as it is!