Woolmer Hill Road remains closed as four dangerous trees have not yet been removed. The removal of the large ancient oak at the bottom of Haste Hill continues today. The position of the tree is endangering nearby homes and I have paid a site visit. 
I have raised my concerns with the Highways team and SCC leadership about the lack of resources to cope with two major tree incidents in Haslemere at the same time.
Following the removal of the large fallen branch on Friday in Haste Hill that blocked the road, a large crack throughout the main trunk was discovered resulting in the need to fell the whole tree to prevent it falling on nearby homes. 
The contractor explained that the recent heavy rains, following a long exceptionally dry period creates additional top heavy stress on the trees that are still weighed down by leaves and acorns. The roadside banks are also more fragile after these climatic conditions of drought followed by intense rain.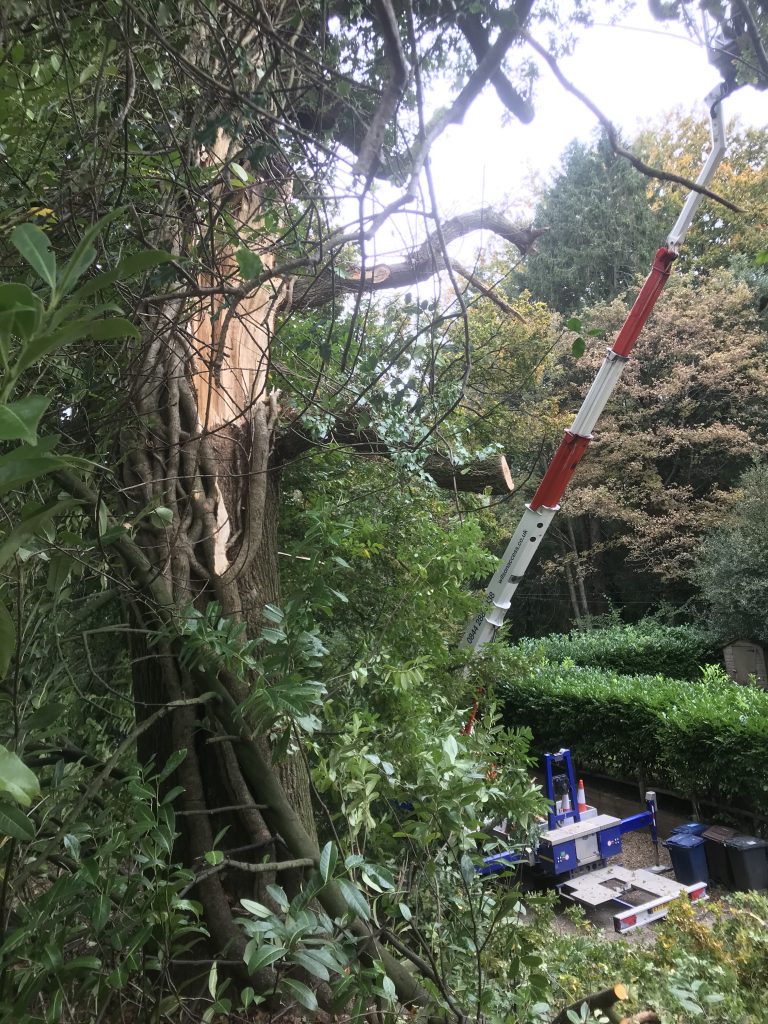 The lack of a second available tree surgeon team to work on both the Haste Hill and Woolmer Hill emergency has created the totally unacceptable situation whereby the Woolmer Hill trees were not felled over the weekend as I had expected, and the Woolmer Hill road remains closed.
Any such serious incidents reported are passed directly to the Surrey CC contractors Kier who then sub-contract out to tree specialists in this case having inspected the site. 
The Woolmer Hill incident report initially related to one dangerous tree over the highway, this was dealt with last week but a further 4 trees on the steep embankment were identified as being dangerous, resulting in the continued road closure.  
Over the weekend, the tree contractors visited the Woolmer Hill site and discovered that the situation had changed with the bank at risk of slipping. This changed the equipment required, with an additional larger cherry picker needed. The contractor has had to hire in this equipment that is rarely required.
Works are expected to start on the Woolmer Hill trees tomorrow once the Haste Hill situation has been made safe.
I've have been in touch with Woolmer Hill School who will be writing to parents/guardians.