Sharing a response regarding 20 is Plenty from SCC's Cabinet Member for Transport to 20 is Plenty's South East Region Coordinator.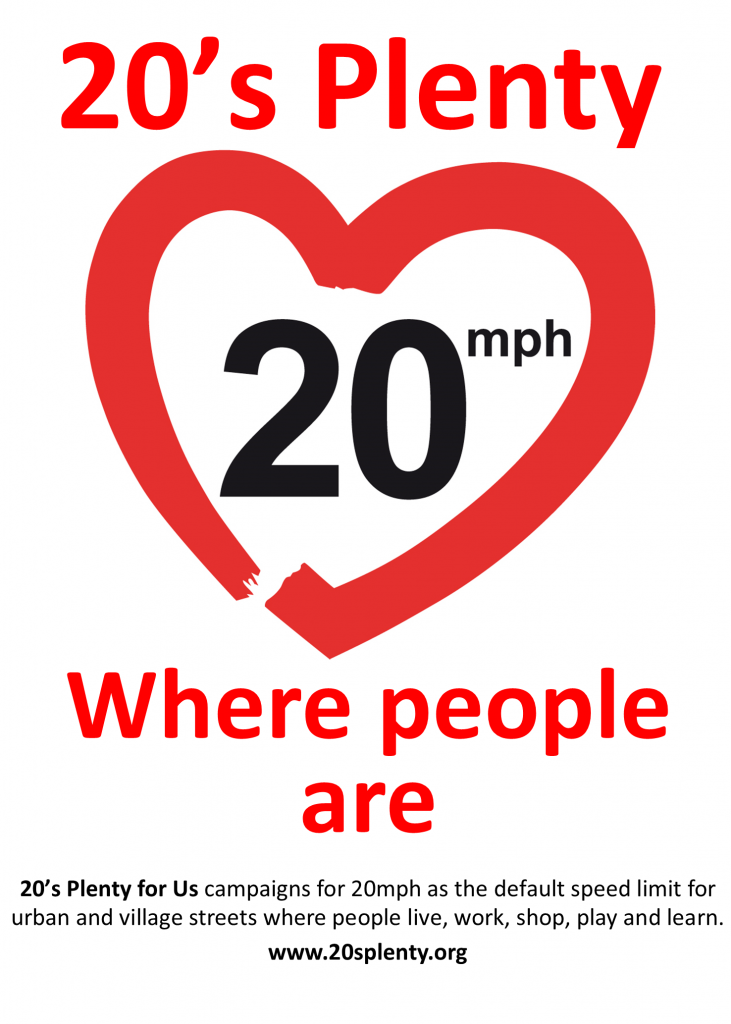 From: Matthew Furniss, SCC Cabinet Member For Transport
Sent: 19 November 2020 11:50
To: All Councillors
Subject: 20's Plenty for Surrey
Dear Councillor,
I believe the following enquiry has been circulated to a number of Members. Please see response below if you have received this enquiry through.
Many thanks for your email with information on the support for 20 mph speed limits. I am very much sympathetic to lower speeds in residential areas and busy shopping streets – lower speeds reduce the risk of collisions, can support more walking and cycling, and can make places more pleasant to live.
We need to ensure that any measures to encourage lower speeds are effective. National research has shown that simply reducing speed limits using signs alone will not be successful in reducing speeds towards 20 mph if the existing mean average speeds are closer to 30 mph. Therefore our policy requires that additional supporting measures will be required for a scheme to be successful if the existing speeds are above 24 mph. What type of measures and how extensive the measures will need to be will depend upon each individual stretch of road and how fast the existing mean average speeds are. For example, if the existing mean average speeds are closer to 30 mph then traffic calming (e.g. raised road tables) are likely to be required. However if the mean average speeds are just above 24 mph then the nature and extent of any supporting measures would not be as great. Therefore the process we use in Surrey follows best practice and ensures that we measure the existing speeds beforehand before deciding upon the viability of any new speed limit (including 20 mph), along with the type and extent of any supporting measures that may be required (if any). Our policy can be viewed via this link.
Within Surrey, decisions on speed limits are delegated to local committees of elected members within each District or Borough, along with a budget allocation for highway improvements. It is for local members to decide upon the priorities for highway improvements in their areas, and whether they would like to pursue 20 mph speed limit schemes as opposed to other highway improvements on the roads that they are responsible for.
Kind regards
Matt Furniss
Cabinet Member for Transport
BELOW IS THE E-MAIL SUBMITTED by 20 is Plenty's South East Region Coordinator.
Dear County Councillor
7 out of 10 people in the UK agree with 20mph in residential streets: UK Government National Travel Attitudes Study
Over 20 million people live in Local Authorities where 20mph is the norm for built up areas.
Speed limiting technology, standard on all new cars from 2022, will revolutionise speed limit compliance.
The UK government has signed the Stockholm Declaration recognising 20mph as the maximum speed limit where people and motor vehicles mix: http://www.20splenty.org/un_says_20splenty.
Yet, Surrey County Council's speed limit policy assumes that 20mph is an exception and includes an 8-step process which makes it all but impossible for your local communities to achieve what they want.
If you want 20mph to become the norm on residential roads in the county, 20's Plenty for Surrey would like to work with you to achieve it in a cost effective manner.
If you continue to endorse 30mph, we'd like to understand your reasons and to answer your questions. Our FAQs cover the 20 most common myths http://www.20splenty.org/20_questions_about_20_s_plenty.
20's Plenty for Surrey looks forward to hearing from you.
Best Wishes
Adrian Berendt
South East Region Coordinator
Facebook http://tinyurl.com/20splentyonfacebook
Campaigner Facebook https://www.facebook.com/groups/177304489851446/