Core Brief 05/01/21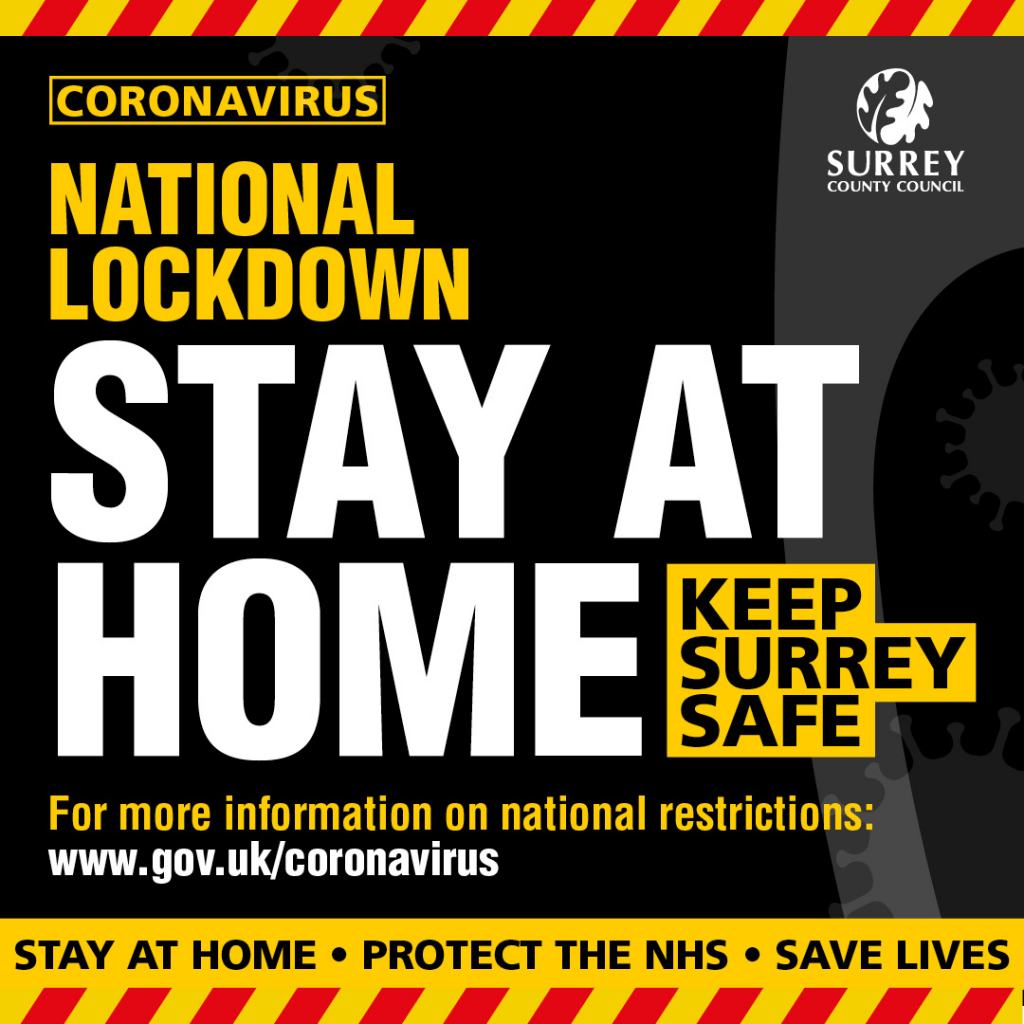 SURREY DATA:
The R rate for South East is 1.2-1.4 as of the latest update from gov.uk (23rd December). It's normally updated every Friday but they seemed to have paused over the Christmas break.
Overall, the 7-day rate in Surrey has gone up 23% from 18-24 December (545.1) to 25-31 December (670.8). This will still be affected by holiday reporting, so is likely to go further in the coming 7 days.
Please note the different time period for the positivity data.
*Positivity – weekly percentage of individuals that test positive.
7-Day Rate
27 Dec – 02 Jan
7-Day Cases
27 Dec – 02 Jan
7-Day Positivity*
24 Dec – 30 Dec
England
550.0
309,591
South East
632.7
58,080
18.9
Surrey
673.7
8,059
19.3
Spelthorne
854.3
853
23.8
Surrey Heath
751.4
671
20.7
Epsom and Ewell
740.4
597
20.2
Reigate and Banstead
730.8
1,087
17.9
Elmbridge
715.7
979
19.1
Woking
712.4
718
21.3
Tandridge
709.2
625
19.3
Waverley
623.0
787
17.5
Runnymede
607.2
543
18.6
Guildford
522.2
778
18.7
Mole Valley
482.5
421
15.6
NATIONAL COVID HOSPITAL ADMISSIONS – PROVIDED BY CABINET OFFICE:
| | |
| --- | --- |
| Date | National Covid-19 hospital admissions |
| 1st September 2020 | 496 |
| 1st November 2020 | 9,623 |
| Christmas day 2020 | 17,701 |
| 4th January 2021 | 26,626 |
Key messages:
The Government has taken the decision to legislate new national lockdown restrictions because of a number of indicators, including the infection rate in the over 60s, the rate at which positive cases are rising and pressures on the NHS.
There has been a stark rise in national Covid hospital admissions (see above) and now is the time to take action to prevent our crucial frontline services being stretched even further.
Rates are now very high across the board in Surrey. There has been an alarming increase in rates across all age groups, this is particularly serious for the over 60s who are known to be more vulnerable to the virus.
We are also able to share for the first time the positivity rates, which is the percentage of tests that are positive in each district and borough. This has increased rapidly in Surrey in recent days. Spelthorne currently has the highest positivity in Surrey – almost one in four tests carried out there are positive. Other districts and boroughs are not far behind. This is a strong indicator that there is real cause for concern.
While this lockdown is not entirely unexpected news, it has a huge impact on all our lives and it is not the start to 2021 that we had hoped for. However, it is clear from public health data and the pressure across our National Health Service that these measures are absolutely necessary in order to save lives.
I want to reassure everybody in Surrey that the County Council will continue to do everything we possibly can to guide our residents and businesses through this latest stage in our response to COVID-19.
Together with our partners of the Local Resilience Forum, we have worked tirelessly to protect residents and equip our frontline services.
We will step up support to the most vulnerable, frontline services, and work with our education providers over the coming days, and continue to communicate openly with residents.
If people don't follow the rules now, we are going to see rates rising even higher and the dangerous knock-on effect of that in our hospitals, stretching the NHS and frontline services even further and ultimately more deaths.
Despite Tier 4 restrictions in place over Christmas our rates were still going up. The majority of people are doing the right thing and following the rules, but we have to think about the places where people are still mixing with others and make sure we are being extra vigilant.
Make sure you are following the correct guidelines on support bubbles (you can only form one support bubble, with one other household – further guidance below). If you are mixing with others outdoors, only meet with one other person, by yourself, if they are not in your support bubble or don't live in your house. Remember hands, face, space and continue to socially distance in shops and supermarkets. Even if you are wearing face coverings it is important to keep your distance from people not in your household or support bubble.
There is hope for the future – the vaccine gives us that clear hope that there is a way out – but the vaccination programme will take time, so we have some exceptionally tough months to get through first.
I want to reassure everybody in Surrey that the County Council will continue to do everything we possibly can to guide our residents and businesses through this latest stage in our response to COVID-19.
We have been at the forefront of the response here since the first UK transmitted case was reported in Surrey in February last year.
What about the effect on Businesses?
This has been an incredibly difficult time for all businesses that will now have to close again. It is hugely frustrating after all the work that has gone into adapting to COVID guidance during the previous months.
I am pleased that support is available again from government but there is no getting away from the fact that this will be very tough for businesses. Unfortunately there is a clear public health need and we simply must take measures to stop the spread.
LOCKDOWN RULES – HOW DO THEY DIFFER TO TIER 4?
[Refer detailed questions to guidance on the .gov.uk Covid web pages]
LEAVING HOME:
You must not leave, or be outside of your home except where necessary. You may leave the home to:
shop for basic necessities, for you or a vulnerable person
go to work, or provide voluntary or charitable services, if you cannot reasonably do so from home
exercise with your household (or support bubble) or one other person, this should be limited to once per day, and you should not travel outside your local area.
meet your support bubble or childcare bubble where necessary, but only if you are legally permitted to form one
seek medical assistance or avoid injury, illness or risk of harm (including domestic abuse)
attend education or childcare – for those eligible
Colleges, primary and secondary schools will remain open only for vulnerable children and the children of critical workers. All other children will learn remotely until February half term. Early Years settings remain open.
Higher Education provision will remain online until mid-February for all except future critical worker courses.
If you do leave home for a permitted reason, you should always stay local in the village, town, or part of the city where you live. You may leave your local area for a legally permitted reason, such as for work.
If you are clinically extremely vulnerable you should only go out for medical appointments, exercise or if it is essential. You should not attend work.
MEETING OTHERS:
You cannot leave your home to meet socially with anyone you do not live with or are not in a support bubble with (if you are legally permitted to form one).
You may exercise on your own, with one other person, or with your household or support bubble.
You should not meet other people you do not live with, or have formed a support bubble with, unless for a permitted reason.
Stay 2 m apart from anyone not in your household.

VACCINATION MESSAGES – Surrey Heartlands:
When and where is the Oxford vaccine roll-out starting locally?
As part of the national roll-out, we will start to receive small quantities of supplies of the Oxford vaccine later this week; supplies will ramp up over the coming weeks and we will gradually roll it out across our sites.
Supplies will be small to start with and we will gradually roll it out across our sites over the coming weeks – the whole vaccination programme is dependent on the supplies of the vaccine.
The new vaccine will be easier to store and transport and will enable us to ramp up roving services to care homes, the housebound and so on
If asked we could add:
We expect Epsom Racecourse to go live as larger vaccination centre from next week
Additional local GP-led vaccination services are going live across the county over next couple of weeks
How is the rollout going?
Across Surrey Heartlands we have been working hard over just three short weeks to deliver the Pfizer vaccine, through our first hospital hub at Royal Surrey, in GP-led community vaccination sites and we've just started a roving model to start vaccinating in care homes
NHS staff are doing an incredible job to deliver what it is the largest vaccination programme in our history, at the same time as continuing to be there for everyone who needs care.
This whole programme has been set up really quickly, starting with the over 80s and care home residents & staff as priorities; I would like to reassure any of your listeners that if you are within these groups and haven't heard directly from us yet, we will get to you soon. Please help us by not contacting us directly, we will contact you as soon as we can.
The collaboration with local partners has also been incredible and has allowed us to roll this out at pace.
Important to include if you can:
The large increase in cases hospitals are seeing and the emergence of a new variant of the virus also shows that we cannot let our guard down now and even those who have received a vaccine still need to follow social distancing guidance.
The public have an important part to play to help us do this:
please don't contact the NHS to seek a vaccine, we will contact you;
when we do contact you, please attend your booked appointments;
and really importantly, please continue to follow all the guidance to control the virus and save lives.
This is the biggest vaccination programme the NHS has ever undertaken. It is a huge challenge, and not everything will always go perfectly.
The NHS is well-used to delivering millions of vaccines a year and is moving quickly to roll out this vaccine to those who need it, but it's important that we remember this will be a marathon, not a sprint.
On pressure on the NHS, and potential of new lockdown measure:
As long as cases continue to rise there will be pressure on the NHS.
Locally whilst our health system, including our hospitals, is under considerable pressure we are holding our own – however the next few weeks are expected to be particularly difficult as we await any direct impact from the Christmas and New Year period on hospital admissions.
I cannot stress enough how important it is for people to follow the guidance and stay at home wherever possible.
SURREY HEARTLANDS – INCREASING CAPACITY OF NHS SERVICES
Due to the impact of Covid-19 on local NHS services, we are doing all we can as system, to increase capacity. This includes opening more beds and redeploying staff to support our Covid-19 response. As cases of Covid-19 continue to rise we have been working collaboratively as a system to put measures in place that will enable us to prioritise how we provide care to those who are most critically ill.
This is not a decision we have taken lightly but we must focus our efforts on those who need the most urgent and life-saving care. This means we have now postponed many routine and non-urgent elective procedures and operations across our system so we can focus on urgent and cancer care, including caring for those with Covid-19.
These new measures include:
· Opening up additional beds within our acute and community hospitals to help create additional capacity for people who need to be admitted. This includes plans to open additional beds at the NHS Seacole Centre.
· Prioritising urgent and cancer care over non-urgent care. This has meant postponing some routine planned elective procedures and non-urgent operations to help create additional bed capacity and free up staff who can then be deployed to support our Covid-19 response.
· Moving to virtual (telephone and online) appointments for many outpatient services to reduce the number of people travelling to hospitals and other sites to reduce transmission of the virus.
· Working together as a system, across health and social care, to discharge people from hospitals as soon as they are well enough to leave, with the right support and the right package of care.
· Working with our independent sector partners (such as private hospitals) to identify any additional bed capacity and any clinical staff that could be deployed to other sites if needed.
· Temporarily suspending home birth services due to ongoing pressures on the ambulance service which means SECAMB are unable to guarantee a timely ambulance response to those women choosing to plan their birth at home or in a stand-alone midwifery unit should they experience an emergency.
Importantly, patients who have appointments should still attend; if we need to reschedule an appointment patients will be contacted directly. Importantly, primary care services remain open.
For those who need urgent care which can't be managed via a GP appointment, we would urge people to contact NHS 111 first, either online via www.nhs.uk or by calling 111; please keep A&E for emergencies only.
The measures we have put in place will allow us to care for those who need the most urgent help over the next few weeks; we will of course keep the situation under constant review so we can restore these non-urgent services as soon as possible. In the meantime, NHS services are available for those who really need help; spotting problems early is vital, especially cancers, and GPs continue to refer patients who need urgent treatment to hospitals as normal.
Further guidance
SUPPORT BUBBLE RULES – people must follow exact rules:
It is important that people understand the rules for support bubbles.
Not everybody can form a support bubble. You can form a support bubble with another household of any size if:
you live by yourself – even if carers visit you to provide support
you are the only adult in your household who does not need continuous care as a result of a disability
your household includes a child who is under the age of one or was under that age on 2 December 2020
your household includes a child with a disability who requires continuous care and is under the age of 5, or was under that age on 2 December 2020
you are aged 16 or 17 living with others of the same age and without any adults
you are a single adult living with one or more children who are under the age of 18 or were under that age on 12 June 2020
You should not form a support bubble with a household that is part of another support bubble.
If you share custody of a child with someone you do not live with, the child can move freely between both parents' households. You do not need to form a support bubble to do this.
You can form a support bubble if you are eligible.
SCHOOLS
Colleges, primary (reception onwards) and secondary schools will remain open for vulnerable children and the children of critical workers. All other children will learn remotely until February half term.
In the circumstances, the Government does not think it is possible for all exams in the summer to go ahead as planned. DfE will accordingly be working with Ofqual to consult rapidly to put in place alternative arrangements that will allow students to progress fairly.
Mass secondary school testing will still go ahead for staff and those pupils (critical worker parents or vulnerable) in school
If one parent is a critical worker children will be eligible to attend school
Head teachers will have the flexibility to allow children who struggle to access learning remotely to attend school