From Waverley's Head of Economic Development
Dear all,
We are trying to support anyone interested in starting their own business at this time, utilising our contract with Enterprise Business South. Please can you promote this start-up overview to your networks, via social media channels/ community boards, to get the word out there.
It is open to anyone. The first one takes place on 23rd September and subject to demand, we would like to run these monthly.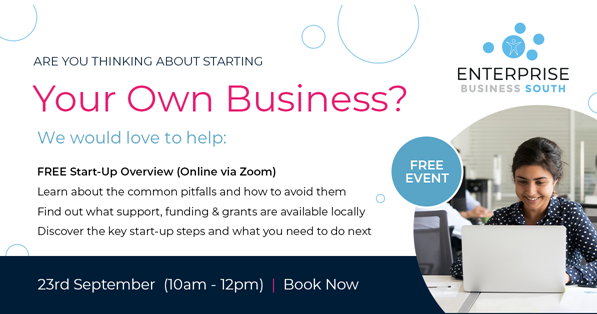 FREE tickets can be booked from an Eventbrite page: https://www.eventbrite.co.uk/e/are-you-ready-to-start-your-own-business-tickets-118450182685 

Starting your own business (working for yourself) can be an exciting adventure and we are here to help you every step of the way.
"You don't know, what you don't know" is a great saying and relevant to starting a business. There are so many considerations in the early stages that understanding which are the most important will dramatically increase your chances of success.
This free thought-provoking overview covers…
• The reality of working for yourself
• Employment v self-employment
• Are you the right type of person?
• How to avoid common pitfalls
• Local support, funding, & grants
• What are the first/next steps?
A copy of the slides, templates and fact sheets will all be supplied by email after the event.


Thank you for your support in this.
Regards
Catherine
Catherine Knight
Economic Development Manager
Waverley Borough Council
The Burys, Godalming GU7 1HR