I have received a list of items that is urgently needed by The Haslemere Food Bank.
Donations can be left at either Tesco or Waitrose in Haslemere or at CeeGees in Fernhurst. Or donations can be dropped at the Methodist Church on a Wednesday and Friday morning from 10AM – 12PM.
Please note, the food bank will be open this Bank Holiday Friday for referrals.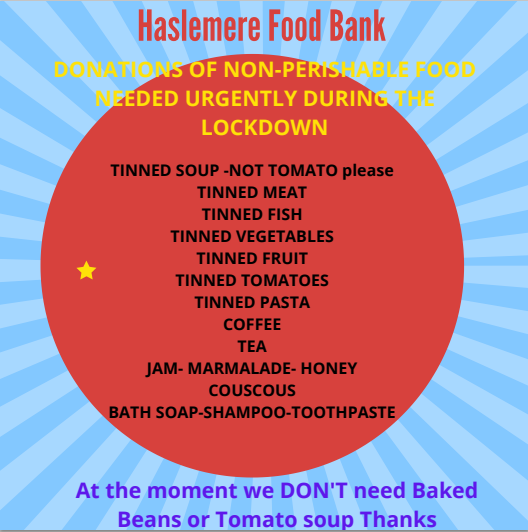 Haslemere Food Bank, request for donations.
NON-PERISHABLE FOOD NEEDED DURING THE LOCKDOWN
THE FOOD BANK URGENTLY NEEDS at the moment:
TINNED SOUP – NOT TOMATO SOUP please
TINNED MEAT
TINNED FISH
TINNED VEGETABLES – NOT BAKED BEANS
TINNED TOMATOES
TINNED PASTA
TINNED FRUIT
TEA
COFFEE
JAM & MARMALADE
COUSCOUS
HONEY
BATH SOAP
SHAMPOO
TOOTHPASTE
THANKS TO DONATIONS, THE FOOD BANK HAS BAKED BEANS
THANKS TO DONATIONS, THE FOOD BANK HAS TOMATO SOUP