A new Flexi Season ticket is available to buy from today and can be used from Monday 28 June.
This new product will offer SWR customers more flexibility – enabling people to travel on any eight days in a 28-day period – and could lead to significant financial savings.
From today, SWR customers also can change advance ticket bookings to a different date or time for no extra cost.
South Western Railway (SWR) customers who split their time between home and the office are set to save money and enjoy more flexible travel thanks to a new ticketing product which is available to buy from today.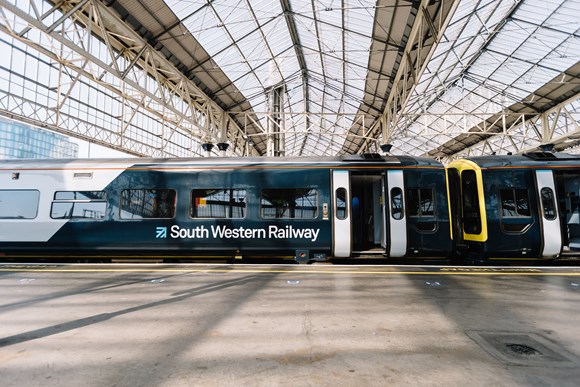 The new Flexi Season ticket will replace SWR's Carnet tickets and enable customers to travel on any eight days in a 28-day period. From Monday 28 June, customers will be able to enjoy unlimited travel between the same two stations on their chosen days, with the product being valid across the SWR network and beyond.
Part-time commuters could benefit from the new product through significant financial savings. For example, a Flexi Season ticket holder travelling between Woking and London Waterloo on two days a week would save over £250 a year when compared to the cost of daily tickets.
Flexi Seasons will be entirely contactless, meaning customers will need to obtain a SWR smartcard before purchasing the new product through the SWR app, website or a ticket office. To activate one of their eight day passes, customers are required to place their smartcard on a gate or smartcard validator, allowing them to travel between their chosen stations.
SWR is urging customers to check a new season ticket calculator to confirm which type of ticket is best for them. This tool is available here: https://www.nationalrail.co.uk/times_fares/season-calculator.aspx
In line with the rest of the industry, SWR is also taking part in the new 'Book with confidence' initiative, which allows advance ticket bookings to be changed to a different time or date fee-free, until 31 December 2021. The change, which is also introduced today, means that SWR customers can book train tickets safe in the knowledge that that they won't be out of pocket if plans or circumstances change.
Commenting, SWR's Commercial Director, Peter Williams, said:
"We are delighted to be able to offer the new Flexi Season ticket, which is on sale from today and available to use in a week's time.
"This product will offer the flexibility and value for money that so many of our customers need in the aftermath of a pandemic which has fundamentally altered working patterns.
"We are also pleased to be part of the 'Book with confidence' initiative, which enables our customers to change the date and time of Advance tickets for free. We have all got used to plans changing quickly and unexpectedly, and we want to do all we can to ensure that our customers don't lose out when they do.
"As these and other improvements show, we are determined build back a better and more flexible railway, fit for the post-pandemic world".
Transport Secretary Grant Shapps said:
"Our railways work best when they are reliable, rapid and affordable.
"As we kickstart the biggest reforms to our railways in a generation, flexible season tickets are the first step. They give us greater freedom and choice about how we travel, simpler ticketing and a fairer fare.
"With a season ticket calculator to see which option works best for you, and a book with confidence guarantee to make journeys stress-free, the future of fares is flexible".
Contact Information
Toby Williams
toby.williams@swrailway.com
Notes to editors
Flexi Season ticket – pricing:
Flexi Season tickets have been priced relative to the options passengers already have on their route.
That means they provide better value and convenience for most commuters travelling two to three days a week, compared to existing daily tickets or traditional season tickets.
The Flexi Season ticket will offer a minimum 20% discount on the equivalent monthly season ticket.
'Book with confidence':
If your plans change, you can amend date and time of Advanced tickets fee free up until 6pm the day before you travel, and until 31/12/21. Fare price difference may apply. Advance tickets purchased online can be exchanged for a voucher for future journey. Fee free changes also apply to Off Peak and Anytime tickets, up to the date of departure.
For more information on Flexi Season tickets, visit: https://www.southwesternrailway.com/train-tickets/season-tickets/flexible-train-tickets