Works started today to resolve the recurring flooding problem under Sturt Road railway bridge, and associated road surface deterioration due to constant subsurface water saturation.
Project started as programmed end of 2016, but discovered a number of water leaks in Thames water pipes under this section of road, so project halted until repairs carried out.  Project then had to be rescheduled on program list, resulting in delay.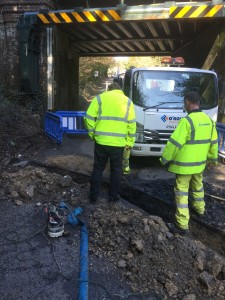 Work that started today =  hand digging out trench as electricity and gas mains pipes to be avoided. Aim to lay new 150 mm pipe under Sturt Road to connect existing gullies, so that runoff is removed from the road.
Pipe will be laid and concreted in tomorrow, 16/03/2017. Road resurfaced 17/03/2017.
Road will be closed with diversions in place until 18/03/2017- but still full access to Haslemere Sports Centre and Sturt Road businesses.
I have organised for a vegetation gang to come in while the  road is closed to cut back vegetation, and clear mud and debris from the verges.