Press release issued by Haslemere Help this week:
Online community support group Haslemere Help reaches over 300 volunteers, as they continue to support those who are self-isolating or vulnerable in the local area during the Covid-19 outbreak
Collaborating with Surrey County Councillor Nikki Barton and Town Council staff, and with Mayor John Robini even manning the phone lines, the group are helping with essential tasks such as shopping for provisions
The group also offers a prescription pick-up and delivery service from all local pharmacies, including a special collaboration with the Haslemere Health Centre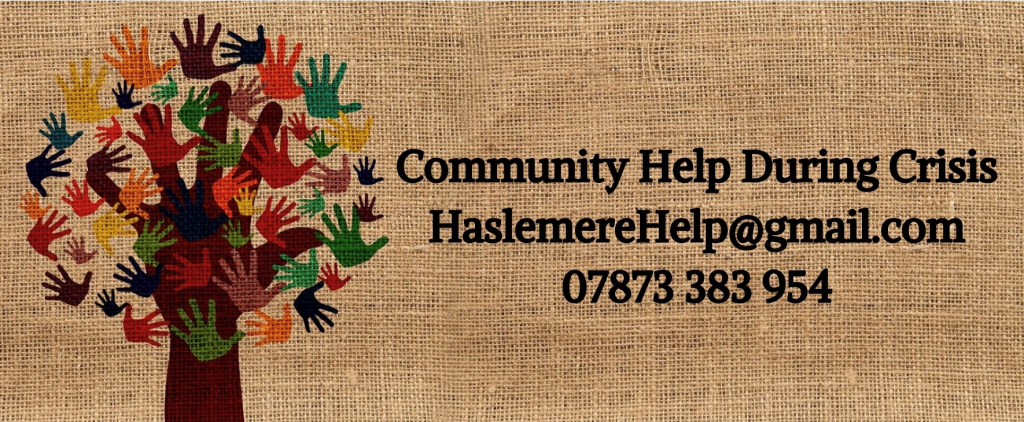 If you or a relative are in need of any help in these tricky times, please contact 07873 383954 or email haslemerehelp@gmail.com
Community Covid-19 support group Haslemere Help has reached over 300 volunteers.
In a bid to help local residents, the group collected the names of those willing to provide volunteering support for their neighbours, and since then these volunteers have been successfully performing tasks such as shopping for essentials and delivering prescriptions.
A founding volunteer, Narn, said: 'When the call went out for volunteer help, we knew many in Haslemere would step forward. Haslemere is a community which has always had a volunteering ethos.
'I am full of admiration for those who have volunteered and, whilst I would have expected nothing less, it is still overwhelming to see the kindness and consideration from those contributing voluntarily.
'We have fielded 100s of phone calls to our helpline which is being manned by John Robini, our town mayor, 100s of Facebook messages and innumerable e-mails all needing help with prescriptions, shopping and an ear to listen and have a friendly chat. Our volunteers have also picked up wheelchairs, delivered flowers, collected plastic surgical boots and delivered hearing aid batteries. '
Surrey County Councillor, Nikki Barton, has actively supported Haslemere Help and worked to streamline the Haslemere Health Centre's prescription delivery service using the group's volunteers. Councillor Barton told us: 'The queues at the health centre are often long, putting great pressure on the pharmacy team. We have arranged that you can now call 07873 383954 or alternatively you can make contact by e-mail haslemerehelp@gmail.com with your prescription pick up request. Patient contact and delivery details are all that is needed. Haslemere Help will not keep any of your personal details and any collections will be treated in confidence. "
On Twitter, Haslemere resident, Miles Weston who is currently self-isolating at home has received invaluable neighbour support. He wrote: 'This is what community-minded, unnamed people in Haslemere are doing for their neighbours. We know them, we love them for what they are doing and we admire them for not being on the lookout for public recognition. They are not bragging – they are just doing it for Haslemere."
Haslemere Mayor, John Robini said: 'The volunteers' efforts and commitment, together with all those employed in delivering crucial services at this time, should lift our spirits and give us all encouragement during what is, undoubtedly, a troubling and challenging time for our town. The town council staff have also provided invaluable telephone and administrative support.'
Individuals and community groups throughout Haslemere looking to provide volunteering support during Covid-19 can still register and are encouraged to complete a Volunteer Registration Form. Residents who need help with shopping, prescription pickups or other services should call the Haslemere Help service on 07873 383954. Enquiries can also be channelled to haslemerehelp@gmail.com and through their dedicated Facebook page www.facebook.com/haslemerehelp.