The Shepherds Hill roadworks began two nights ago in Haslemere.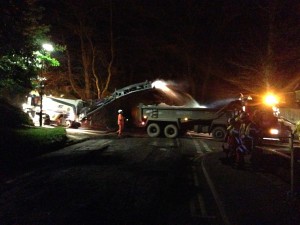 The work needs to take place at night as this is an A-road and is a full re-surfacing. I have been contacted by residents on Twitter, Facebook and by e-mail complaining about the noise. The "siren" noise is due to the vehicles reversing and cannot be disabled for health and safety reasons.
There will be no weekend work.
The Lower Street/Shepherds Hill junction will be done on Monday and Tuesday night.
I hope the inconvenience of the noise will be nothing like as great as the joy of having a pothole free road!